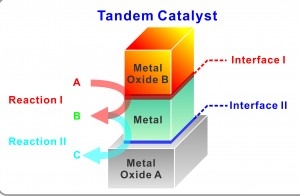 A unique new bilayer nanocatalyst system. | Image courtesy of Yang group
Catalysts (substances that speed up the rates of chemical reactions without themselves being chemically changed) are used to initiate virtually every industrial manufacturing process that involves chemistry. With the advent of nano-sized catalysts, metal and metal oxide catalysts have surged in importance.
 
Recently, researchers at the Department's Lawrence Berkeley National Laboratory (LBNL) created bilayered nanocrystals of metal-oxide metal that are first to feature multiple catalytic sites on nanocrystals interfaces.
 
Project leader Peidong Yang explained that this development should be especially valuable for applications in which multiple sequential reactions are required to produce chemicals in a highly active and selective manner. Under another hat, Yang leads the Berkeley component of the Fuels from Sunlight Energy Innovation Hub at the Joint Center for Artificial Photosynthesis. To that end, a prime example of these applications is artificial photosynthesis -- the effort to capture energy from the sun and transform it into electricity or chemical fuels.
 
Read up on Berkeley Lab's developments in tandem catalysis.
Niketa Kumar is a Public Affairs Specialist with the Office of Public Affairs.