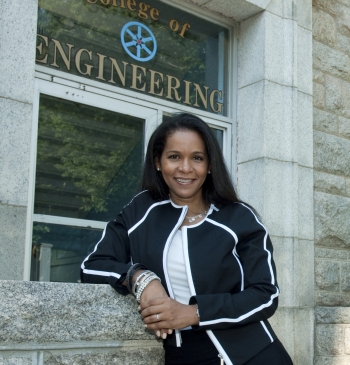 As the Energy Department's Technology Transfer Coordinator, Dr. Karina Edmonds works to accelerate the commercialization of technologies developed at our National Labs. You can submit questions for Dr. Edmonds about opportunities for America's future STEM leaders leading up to our Google+ Hangout this Wednesday, February 27 at 2:30 pm ET.
You were appointed by the Secretary of Energy Steven Chu to be the Energy Department's Technology Transfer Coordinator. What are your responsibilities in this role?
My greatest responsibility is accelerating the adoption of the Energy Department's scientific discoveries by the commercial sector. There are a number of policies and regulations that we can manage to accelerate the process. I have focused on providing guidance and setting policies that create meaningful private/public partnerships between our Labs, industry and academia.  I have also spent a lot of time addressing the needs of small companies and entrepreneurs to grow or start their companies based on DOE funded technologies.
What do you enjoy most about the work you do?
What I enjoy most are the personal interactions with scientists, policy makers, industry, entrepreneurs and other stakeholders that are working within our innovation ecosystem on a daily basis.
What are your biggest challenges?
The biggest challenges are around the pace at which change can occur. Because the policies that we are trying to affect have been in place for a long time and because they can have unintended consequences the number of stakeholders that must review the changes can unfortunately make the process quite onerous. But, for the most part, it is extremely gratifying once the process has been completed and new policies are adopted.
Prior to joining DOE, you were Director of Jet Propulsion Laboratory Technology Transfer at the California Institute of Technology. What was that experience like?
It was a blast, no pun intended. To work and live between Caltech and JPL, where groundbreaking research is taking place was very exciting and gratifying, knowing that the research I was learning about could have profound effects on our quality of life. To have the opportunity to sit with professors and scientists who are at the top of their game to learn about their science was really neat. I got to learn about all the cool new technologies being developed and then working with industry on commercializing those inventions was a lot of fun.
You're background is in aeronautical engineering. How did you get your start in this field?
After completing my undergraduate degree in Mechanical Engineering, I found that I really enjoyed my materials courses, and I have always been fascinated by planes.  Aeronautics tolerates the smallest margin of error, so honestly I thought if I could do aero I could do mechanical, civil, industrial, and so on. It has always been about keeping my options open.
What advice do you have for students interested in specializing in aeronautical engineering or other STEM (science, technology, engineering & math) fields?
You do not need to be the smartest person in your class, but you should be the most determined! Get help early on if you run into difficulties -- where there is a will there is a way. Do not be discouraged by temporary set backs. You will never know how close you came to success if you quit.
What are you most looking forward to discussing during our upcoming Google+ Hangout on STEM Education?
I look forward to speaking with students that are excited about their future in STEM and all the promise that will come with that. It's so important for students to know that they can be anything they choose and that, with the right amount of practice and preparation, they can get there!
Q&A
Send your questions and comments on creating opportunities for underrepresented groups in STEM.
Ask Us