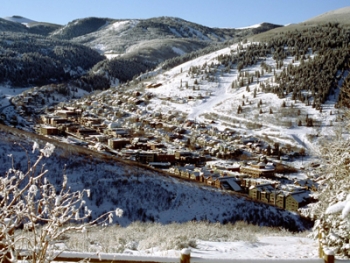 Park City, UT has completed several green projects recently. The town is installing a solar energy system on top of the Marsac Building at the end of the month. | Photo courtesy of Park City |
The mountain paradise of Park City, Utah - best known for its sensational skiing and annual Sundance Film Festival - is quickly becoming a shining example of environmental sustainability.
The city's latest green endeavor: an 18 kW solar energy system on top of the historic Marsac Building.
Home to the town's city hall, the building overlooks Old Town and is the most visible structure in Park City. "It's a great place to make a statement on our commitment to renewable energy," says Tyler Poulson, Park City's environmental sustainability coordinator.
The $155,000 project is fully financed by a portion of Park City's $217,300 Energy Efficiency and Conservation Block Grant (EECBG) funded through the Recovery Act and granted to the city by Utah's State Energy Program. Park City plans to conduct an energy audit of municipal facilities and install intelligent building controls at its public works complex with the remaining EECBG funds.
From solar to geothermal
In late October, workers will begin installing the 80 panel photovoltaic (PV) array, which is expected to generate 30,000 kWh of clean energy a year, up to 15 percent of the building's electricity.
Built in 1936 under the New Deal, the former school building has gone through an energy makeover over the last two years.
The facility's aging HVAC system was replaced by a geothermal heat pump, which uses the constant temperature just below the Earth's surface to warm and cool the building.  
Low emissivity windows and a smart timer for efficient temperature controls have been installed. The building's lighting system was upgraded with LED exit signs, timers and occupancy sensor controls.
Water saving features including low-flow bathroom faucets and toilets were also put in and potable water for landscaping was cut by half.
With the new solar array, Park City is "adding an energy generation component" to the building, Poulson notes. "The solar project will really round out the building as a sustainable fixture of the community," he adds.
Solar panels at the Marsac Building are expected to generate 30,000 kWh of clean energy a year. | Photo courtesy of Park City
Acting on an environmental plan
In addition to the EECBG projects, Park City has recently completed several other green initiatives.
A $1.2 million retrofit project - conducted by Johnson Controls  - targeted government facilities and is expected to slash Park City's energy costs by $99,138 annually and CO2 emissions by 1,051 tons per year.
The city has also developed an Environmental Plan that seeks to cut greenhouse emissions and teamed with the Park City Foundation for the "Save Our Snow" campaign aimed at helping residents find ways to reduce their carbon footprint.
Because snow is the lifeblood of Park City's economy, projects such as the Marsac Building's solar panels are a vital part of the town's effort to combat global warming, according to Poulson.
"Climate change is a reality and a threat to the world and our local lifestyle," he says.
Poulson says the solar project illustrates Park City is taking the lead on clean energy and the environment.  "It's critical to show that we walk the walk."