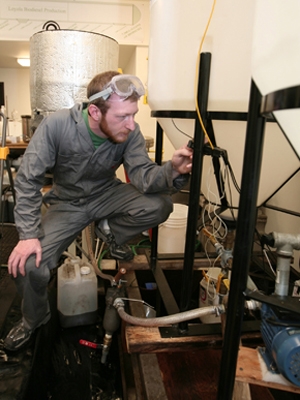 Zach Waickman works on a biodiesel project at Loyola University. | Photo courtesy of Mark Beane, Loyola University
Students convert used dining hall cooking oil into biodiesel
The alternative fuel to supply 2,500 gallons of fuel to campus shuttles
Lab-created biodiesel and biosoap sales support biofuels education program 
Communications major Zachary Waickman had no idea what he was getting into when he signed up for Loyola University's undergraduate Solutions to Environmental Problems (STEP): Biodiesel course in the fall of 2007. 
But grappling with the unknown was part of the course's allure.  "The very first class we didn't have a facility, we didn't know how to make biodiesel and we had very little money," Waickman says.  "It was awesome."
Within the semester, students built a biodiesel laboratory and began making vehicle fuel from campus dining halls' used cooking oil. Then the effort expanded to include an extracurricular Biodiesel Club, a paid fellowship program and outreach to high schools and the community. 
"The project was strong enough that we stepped out of the classroom," Waickman says. 
Three years later, Waickman manages the Biodiesel Lab by day and attends Loyola's graduate business school at night to bring business perspective to the lab's ecological ethos.
"My challenge is to think about these projects entrepreneurially," he explains. "How do we do this once, how do we do it twice and replicate it time and time again at our university and other universities?"
This year the lab is ramping up the production and sales of its wares in an ambitious effort to fund itself. 
Free Enterprise, the shuttle company that ferries students between Loyola's campuses, is expected to buy about 2,500 gallons of the student-produced biodiesel to fuel its fleet this year. 
And the university bookstores and other campus retail shops sell the program's BioSoap, which is made from the glycerin byproduct of the biodiesel manufacturing process and packaged in biodegradable material.
"We want to see if we can financially support all of this with sales driven by products that students dream up make and take to market," Waickman explains.
More products are on the way through the work of energetic students like biodiesel fellow Kelly Graiziger, a senior biology major. "I moved to Loyola from a Minneapolis neighborhood that's very eco-friendly and I wanted to stay involved, especially on a huge campus where tons of waste is produced," Graiziger says. 
On any given day, she's immersed in biodiesel production, methanol recovery, community outreach or her own pet project, creating a bar soap to complement the liquid soaps the program already has on the market.  But she's most excited about the far-reaching impact the program can have if others replicate the work done at Loyola. 
"It's a pay-it-forward kind of thing," she explains. "We're not trying to hide our curriculum; we're tying to show people that it's easy.  We're not trying to capitalize on this; we're giving them as much help and tools as we can to help them succeed."