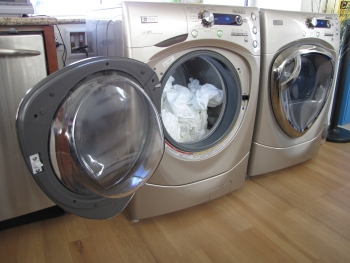 To save taxpayer dollars and help lower the costs of innovative energy-efficient technologies, the Energy Department is streamlining ENERGY STAR testing for appliances such as clothes washers. | Photo courtesy of Bethany Sparn, National Renewable Energy Laboratory.
Every year, Americans purchase more than 300 million ENERGY STAR-qualified products -- making the ENERGY STAR blue label the gold standard for energy-efficient products.
Since the joint program was started in 1992, the Energy Department and the Environmental Protection Agency have certified more than 5 billion energy-efficient products in the U.S., saving families and business an estimated $230 billion on their energy bills and preventing more than 1.8 billion metric tons of carbon pollution. This past April, the Energy Department started to streamline ENERGY STAR verification testing for clothes washers, dishwashers, refrigerators, refrigerator-freezers and freezers -- a step that will save taxpayer dollars and help lower the costs of innovative energy-efficient technology.  
As part of this effort, the Department is working closely with the Association of Home Appliance Manufactures (AHAM) -- a trade association and an ENERGY STAR certification body -- to verify the ENERGY STAR performance of products participating in AHAM's verification program. AHAM will follow a series of stringent testing requirements, holding appliances that are potentially eligible for ENERGY STAR certification to the highest of standards and ensuring that these appliances deliver significant savings for energy efficiency and quality performance.
For more on the Energy Department's agreement with AHAM, read my full blog post on the Office of Energy Efficiency and Renewable Energy's website.