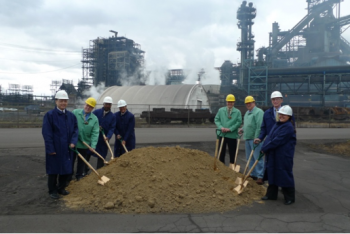 ArcelorMittal, Department of Energy and elected officials gather for the groundbreaking in front of North America's largest blast furnace.
The industrial sector consumes about a third of all energy used in the United States. A large portion of this energy is lost through inefficiencies. The Department of Energy under the American Recovery and Reinvestment Act is investing millions of dollars to help the United States industrial sector become more energy efficient and more competitive globally. One of the companies awarded funds under the Recovery Act, ArcelorMittal, is incorporating high-efficiency, energy-recovery technology into its steel manufacturing operations.
ArcelorMittal has made energy efficiency a key component of its corporate sustainability efforts. To increase its energy efficiency gains, the company is using a $31.6 million Recovery Act grant from the Department of Energy to help fund an Energy Recovery & Reuse project at its Indiana Harbor plant in East Chicago, Indiana. The Indiana Harbor plant is the largest steelmaking facility in North America, covering more than 3,100 acres and operating five blast furnaces that transform iron ore, coke, limestone and scrap into molten iron – and ultimately, high-quality, finished steel.
The process for converting these raw materials into steel is very energy intensive. The facility produces 9.5 million tons of steel annually. ArcelorMittal's new energy efficiency project, however, will reduce its reliance on purchased electricity by generating over 36 megawatts of its own electricity, the equivalent of powering nearly 30,000 American homes for a year. The project will also allow the company to decrease greenhouse gas emissions by approximately 333,000 tons annually – the equivalent of removing approximately 60,800 cars off the road.
How does ArcelorMittal accomplish this? By harnessing the energy potential in a byproduct of the manufacturing process itself. Gas emitted as a byproduct of the blast furnace used in iron making is typically burned in an open flame to minimize environmental impacts. The ArcelorMittal Indiana Harbor project changes the game by capturing the blast furnace gas and using it to fuel a newly constructed boiler to cogenerate both steam and electricity. In other words, the gas that was once wasted is now put to productive use. The project is expected to generate 350,000 pounds of steam per hour, which will be used to produce electricity onsite.
The project will also provide significant economic benefits to the city and region by creating and preserving jobs. According to ArcelorMittal estimates, the project will create 360 jobs related to the design, construction, and manufacture of the equipment alone; employ 200 local tradespeople for approximately 18 months; and, through the energy cost savings it yields, support 5,900 jobs associated with mill operations.
For more information on industrial energy efficiency, please visit industry.energy.gov.