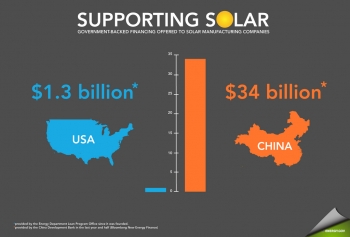 An overview of government-backed financing offered by China and the United States to solar manufacturing companies (Full Size). | Energy Department Image
As Secretary Chu pointed out in his testimony this morning, we as a nation are in the midst of fierce global race to capture the solar market. Bloomberg estimates that in the past year and a half alone, the China Development Bank has offered $34 billion in government-backed financing to solar manufacturing companies, while our own Loan Program has only extended $1.3 billion in financing for solar manufacturing projects since its inception. This not only illustrates a striking disparity in government support, it also demonstrates that countries like China believe that renewable energy sources such as solar are the future of energy production.
As a nation, we face a stark choice. We can sit back and cede our position in this burgeoning industry or we can stand up and compete. As Secretary Chu said today: America can and must compete.