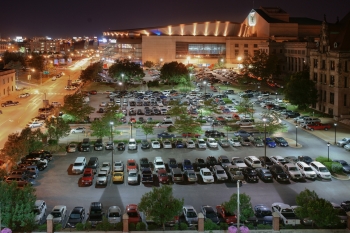 Using money from the Energy Efficiency Block Grant Program, St. Louis installed new LED fixtures in the City Hall parking structure. The new lights deliver more useful light and use nearly 83 percent less power than the previous lights. | Photo courtesy of John Wm Nagel, Photography.
St. Louis -- regarded as the Gateway to the West -- is also becoming the gateway to sustainability for the state of Missouri. Central to increasing energy efficiency in St. Louis has been the Energy Department's Energy Efficiency and Conservation Block Grant (EECBG) Program.
St. Louis identified its City Hall -- considered the "crown jewel" of the city's buildings portfolio -- as a building that could benefit from retrofit. Before making upgrades, the city conducted an energy audit of the building and determined that it was only occupied 40 percent of the year. The city saw an opportunity to reduce energy use for the other 60 percent of the year when the systems require minimal operation. EECBG funds were leveraged to help meet these energy efficiency goals -- including HVAC retrofits, internal lighting upgrades, direct digital control upgrades and whole building lighting upgrades -- and resulted in energy savings up to 50 percent. 
Additionally, 52 outdated metal halide lamp fixtures were replaced with LED fixture tops in the City Hall parking structure. The new LED fixtures deliver more useful light where it is needed and draw a total of 1.3 kilowatts (kW) of power -- compared to the 7.8 kW required by the previous lighting -- for an energy savings of nearly 83 percent.
Further developing its sustainability goals, the city identified several individual projects where it could increase energy efficiency. Leaders leveraged approximately $200,000 of their EECBG grant with private donations to create the City of St. Louis Sustainability Plan, which was formally adopted by the city's Planning Commission in January. The plan -- along with the Mayor's Sustainability Action Agenda that outlines priority sustainability initiatives to implement -- was publicly announced at an event on Feb. 28.
The plan was developed over an 18-month period, and hundreds of individuals interested in making St. Louis more sustainable participated in the process. The city involved residents through public outreach and community engagement, including a community sustainability survey with nearly 1,200 respondents.
"We were already working hard to advance sustainability in the city, but having a Sustainability Plan will enable us to work collectively with our many partners to be as effective and progressive in the field as possible," St. Louis Mayor Francis G. Slay said. "This plan will help focus the conversation on sustainability. It is designed to support our goals to improve overall quality of life and to make the city a more desirable place now and in the future."