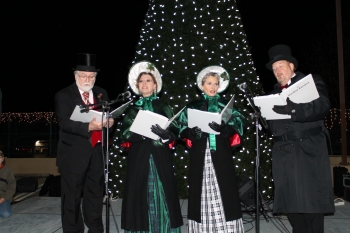 Carolers sing in front of Forest Acres, South Carolina's new LED holiday light display. | Photo courtesy of Richland County, S.C.
A South Carolina community is proving that energy efficiency can improve the holidays by reducing energy and maintenance costs, thanks to its new LED holiday lights. Richland County, S.C., allocated a small portion of an Energy Department-funded Energy Efficiency and Conservation Block Grant (EECBG) to the city of Forest Acres to purchase the new lights.
The new LED holiday lights are expected to reduce energy usage by 90 percent when compared to traditional incandescent lights. Other advantages to switching to LED holiday lights include a reduced risk for fire since LEDs do not produce heat. The LED lights also don't need to be replaced as often as incandescent lights, and normally last at least 10 to 20 percent longer.
"Using energy-saving LED lights for holiday lighting displays is a great example of how communities are making simple changes that can make a big difference in reducing energy costs," said Ted Donat, program lead for the Energy Department's EECBG Program. "This project in Forest Acres can serve as a model to homeowners, as well as other local governments, for switching to energy-saving lights that will make your home, town or city more energy efficient and save money on utility bills."
The EECBG grant was funded through the Recovery Act, which required the city purchase only American-made products for the project. Forrest Acres purchased the LED lights from a business in Raleigh, N.C.
"Forest Acres is proud to make the switch to more energy-efficient holiday lighting and lead South Carolina in this initiative," said Forest Acres Mayor Frank Brunson. "This is one of many efforts the city is doing to save energy and go green."
This is one of Richland County's 18 energy-efficiency projects funded by the Department's EECBG program. Other projects include a hot water heater in the judicial center that will replace a 5,500-gallon boiler six months out of the year to heat domestic hot water, as well as a new chiller for a detention center and hybrid vehicles.