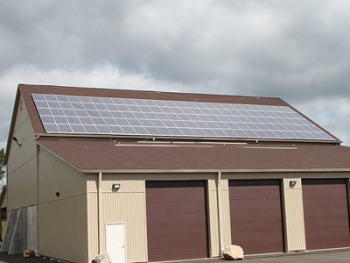 Solar panels have been installed at a shelter facility near Ulster County Fairgrounds. | Photo courtesy of Ulster County
Fairs, food festivals -- and solar panels.
Every year, thousands of people attend events at the Ulster County Fairgrounds in New York State. This year visitors to the fairgrounds will get a first-hand look at two solar energy installations that are saving Ulster County taxpayers money and supporting local companies that manufacture green technologies.
The two installations were commissioned by Ulster County officials and partially funded by $95,000 of a larger Energy Efficient and Conservation Block Grant (EECBG) awarded to Ulster County via the Recovery Act.
Moving towards greater renewable energy use
The EECBG funding was used to install 130 solar panels on the roof of a nearby storage facility. The solar installation and a solar-powered entrance sign are projected to reduce county energy costs by approximately $4,000 a year.
Ulster County Executive Mike Hein says the payback to local taxpayers will be immediate because the county did not have to invest any of its own money in the projects.
"We are striving to be a model county in terms of renewable energy usage, and the Recovery Act funding is helping move in that direction," says Hein.
Stimulating a local industry
Ulster County purchased the solar powered entrance sign in August 2010 from FALA Technologies, a manufacturing and engineering company based in Kingston, N.Y. According FALA Technologies President Frank Falatyn, the sign uses mounted solar panels to supply energy to internal lighting fixtures and does not require an external power source.
Falatyn says the project is important for his company at this time."There is a lot of interest in solar products, but the economic crisis has caused a lot of companies to be very cautious about investing in new technologies," says Falatyn. "We've developed an extensive catalog of solar technology products, and this is an opportunity to showcase one of our products to a lot of people."
FALA Technologies, based in Kingston, New York since 1946, began positioning itself to compete in the solar technology market in 2008.
Falatyn also serves as vice chair of The Solar Energy Consortium and thus is looking at the big picture. He believes the solar industry can boost manufacturing in the Hudson Valley.
"This area has lost a lot of manufacturing jobs due to increased competition from overseas, but we can put people back to work if we invest in the development of solar technologies," says Falatyn.
Solar panels to power storage facility
Hudson Valley Clean Energy, another local company that employees 40 green technology employees, recently completed the second phase of the project: the installation of 130 solar panels on the roof of New Paltz Material Storage Facility at the fairgrounds. The solar panels are projected to produce 75 percent of the storage facility's anticipated demand for electricity.
The storage facility houses materials used for winter road maintenance. The building was designed with an angled roof to accommodate solar panels.
The two solar projects are only part of the work the Ulster County government is undertaking to improve energy efficiency. The county recently completed comprehensive energy audits on all county-owned buildings and plans to use remaining EECBG funds to implement some of the recommendations made by auditors.
"We expect implementation to take place within the next twelve months," says Hein.