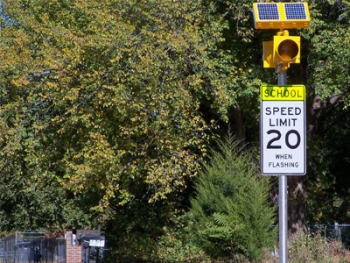 Solar-powered flashing LED beacons are making Bethany, OK, schoolchildren safer by reminding drivers to abide by posted school-zone speeds. | Photo Courtesy of Bethany, OK |
Nothing grabs drivers' attention quite like flashing lights — luckily, in this case, it's not blue lights from a police car. Bethany, Okla., drivers in the city's school zones are being reminded to slow down by amber LED flashing beacons energized by solar power.
Stimulus for safety
The 47 flashing beacons were purchased for the project with $197,225 from an Energy Efficiency and Conservation Block Grant of $207,225, funded by the U.S. Department of Energy through the Recovery Act.
Bethany officials determined that the residential traffic from its more urbanized areas was so intertwined with school zones that students were endangered by speeding vehicles and drivers who may not even realize they are in a school zone. Additionally, there were concerns about handicapped students in bus loading/unloading areas.
"We have had citizen complaints of speeders in school zones for years," says director of public works Steve Katen. "This has resulted in a confusing array of static signs … these [signs] tend to become part of the landscape, which can lead to decreased compliance and increased enforcement requirements."
About a quarter of the 47 planned beacon units are completely installed and operational, and the city is working to have all of them online by the end of the year, making students at a total of eight schools safer.
The beacons were U.S.-manufactured by Carmanah and purchased from local distributor Gades Sales Inc.
The manufacturer's research has shown that the beacons will result in average speed reductions of five to seven miles per hour, which can reduce the probability of a pedestrian fatality from 60 percent to 10 percent, according to research conducted by the Washington Traffic Safety Commission.
'Yielding' benefits
"It was absolutely vital" for the beacons to be solar-powered, Katen says. "The cost of establishing new electric service for 47 individual units would have been impossible to bear for the city."
In fact, Katen estimates the city is avoiding additional electric-bill costs of $7,560 per year by going solar, and the components aren't expected to need replacing for decades. The units will also save about 15,000 kWh annually, resulting in approximately 11 tons of carbon emissions each year.
Along with the safety, environmental and financial benefits of the project, Katen says some very important parts of the benefits package are the technological demonstrations inherent in the systems: photovoltaic technology, LEDs, high-efficiency batteries, computer-controlled timing and distributed electrical generation, just to name a few.
"Each of these units provides a highly visible demonstration," he says, "that might make others feel more comfortable at least considering some of these technologies in [future projects]."