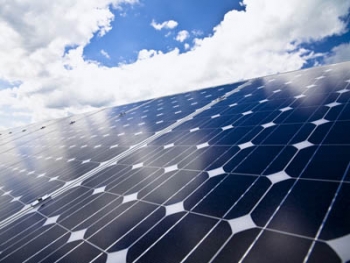 Five Iowa schools will receive rooftop solar panels this summer to help teach students about the technology | File Photo
Learning about the sun's power is just as important as harnessing it.
New solar panels to be installed on the rooftops of five Iowa middle schools will give students hands-on experience with the technology and help offset some energy costs. 
"We really want this be an educational component to the schools' science curriculum," says Rich Dana, an energy specialist for the National Center for Appropriate Technology (NCAT).
Students will discover the power and inner workings of solar panels starting this fall, thanks to NCAT and federal dollars. NCAT's Sun4Schools program will supply 2.1-kilowatt solar panel arrays for Decorah, Grinnell, New Hampton and Spencer middle schools, and Scattergood Friends School in West Branch. The schools are spread throughout the state.
The photovoltaic solar arrays will act as an educational tool for students and the community.  Web-based software to monitor the energy output and savings will be integrated with the array.
"The Sun4Schools program is particularly attractive because the schools had to show a commitment to renewable energy education and broad-based community support," says Steve Fugate, education director at the Iowa Renewable Energy Association (I-Renew).
The projects are being funded in part by the Recovery Act, with the schools, utility companies and other investors chipping in to cover the remaining cost of the $36,000 systems.
Each school is expected to save about $275 a year on energy bills.
Starting in July, local electricians will begin installing the equipment. "It's the beginning of market creation in these areas," says Rich.
The Sun4Schools program started in Montana in 2000, when 27 schools received similar solar panels.  They produce about 3,000 kilowatt hours a year, which is about 25 percent of a home's energy use.
"The elementary school that my children go to has a PV system on an active tracker and every day that it is not tracking properly, they rush home to tell me," says I-Renew's Steve. "When a 6-year-old not only notices those little details, but also speaks up and works to correct the problem, our world becomes a better place."