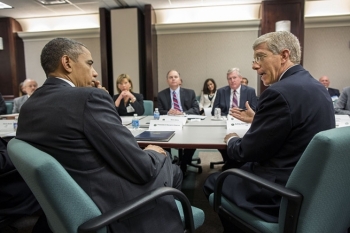 President Barack Obama listens to then-Acting Energy Secretary Daniel B. Poneman during a meeting with electric utility CEOs and trade association representatives at the Department of Energy in Washington, D.C., May 8, 2013. | Official White House Photo by Pete Souza.
Our new Energy.gov series, Smart Grid Week, highlights efforts happening across the country to build a more reliable, resilient and secure electric grid. Throughout the week share your own perspectives and ask questions about the smart grid via Facebook, Twitter, Google+ and email. Follow the series by visiting energy.gov/smart-grid.
This past weekend marked the official start of this year's hurricane season. Last year, Hurricane Sandy was the second-largest Atlantic tropical cyclone on record, resulting in nearly nine million customers losing electric power. Prior to and following Hurricane Sandy, the Energy Department has taken unprecedented efforts to coordinate with local utilities and the electric sector, improve the technologies they use and ensure that states are adequately prepared for emergencies with power outages.
When a power outage happens, it's the responsibility of utilities to get power restored and reconnect their customers. During Hurricane Sandy, Energy Department leaders were in regular contact with the CEOs of major utility companies to assess electricity restoration and conditions. We offered whatever assistance we could provide to cut through red tape and increase coordination to make it easier for utilities to speed up the restoration efforts. Following the storm, the increased communications between the federal government and utilities have continued, focusing on ensuring the energy infrastructure is equipped to deal with a variety of potential threats.
The Department and the electric sector are also working together to move the aging U.S. energy infrastructure towards a "smart grid" of cutting edge technologies, equipment and controls that better communicate to deliver electricity and reduce the frequency and duration of power outages. To spur the development of a smart grid, the Obama Administration invested $4.5 billion through the American Recovery and Reinvestment Act -- matched by private funding to reach more than $9 billion -- to modernize the grid by deploying smart grid technologies that can help keep the grid operating during an emergency, reduce the number of customers affected by outages and improve service restoration operations.
As the electric sector continues deploying technologies like these, resiliency and reliability will continue to improve. For example, during Hurricane Sandy, Pepco, the utility serving the nation's capital and its Maryland suburbs, began getting wireless signals from smart meters on its network registering where individual customers had lost power. That gives the utility a much more accurate and up-to-date picture so they can prioritize their restoration efforts -- rather than having to rely on individual customers calling to notify them. In the south, Electric Power Board in Tennessee has also demonstrated improvements in restoration times and minimizing customers impacted by unanticipated outages and Florida Power and Light is using its smart grid investments to be proactive in developing predictive capabilities.


In addition to the deployment of smart grid technologies, the Energy Department has worked with 47 states to develop energy assurance plans for natural disasters and enabled projects that will strengthen the capabilities for long-term analysis and planning in the three interconnections serving the lower United States. 
Recently, President Barack Obama, then-Acting Secretary of Energy Daniel Poneman and I met with electricity sector CEOs and industry leaders to discuss protecting our nation's energy infrastructure in preparation for the upcoming hurricane season. This meeting is just the latest step in an ongoing effort between the Administration and the electricity sector to make our electric grid more resilient. As weather events become more intense, cyber attacks become more sophisticated and our nation's energy needs continue to increase, it is critical for the federal government and industry to work together to make sure that we have the infrastructure necessary to power our economy and serve American families.
What questions do you have about efforts to ensure a reliable, resilient grid during emergencies and power outages? Ask us on Facebook, Twitter, Google+ or via email. We'll be answering your questions in a follow-up piece on Energy.gov/smart-grid.