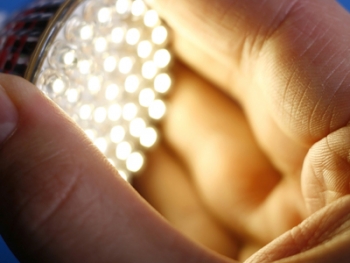 Tecumseh is installing 95 new LED light fixtures throughout the town. | File photo
Tecumseh's town historic town square is home to the city hall, courthouse, post office, and during the summer months—a farmers market. Now, this historic square, built in the 1850's, is about to become home to something new: LED lights.
As part of an Energy Efficiency and Conservation Block Grant through the Recovery Act, Tecumseh is planning to install 95 new LED light fixtures throughout the town, including 13 new lighting poles in the historic square. The funding, for the nearly $187,000 project, included a match of more than $37,000 from the city with a population of under 3,000.
"This program is great for communities like Tecumseh," says Brian Chaffin, the city engineer. "Without additional funding and support, a lot of these smaller, more rural towns would not be able to get these projects done."
Tecumseh will install 87 new LED fixtures to replace mercury vapor and high pressure sodium lights in residential and commercial areas of town, which is projected to save more than $4,000 in energy savings per year. Adding to that will be the new lights in the town square, which is estimated to save approximately $2,000 annually. In total, it is expected that these new LED lights will save Tecumseh more than $6,000 a year.
Going beyond LEDs
Not only will Tecumseh switch to LEDs, the town is also planning a major renovation on the community center next spring.
"The community center is such a vital part of these smaller communities," says Chaffin. "Whether it's hosting a wedding reception or a pancake feed, this building is an important place to this community."
Using nearly $75,000 of another Energy Efficiency and Conservation Block Grant—matched by almost $32,000 of Tecumseh's own funding—the community center will replace four very old gas furnaces with newer, 95 percent more efficient models, says Chaffin.
In addition, the building will receive new insulation in the stage and gym area, which, as Chaffin describes it, is a "big open space with a lot of ceiling." Adding insulation to this area could save the center thousands on heating bills.