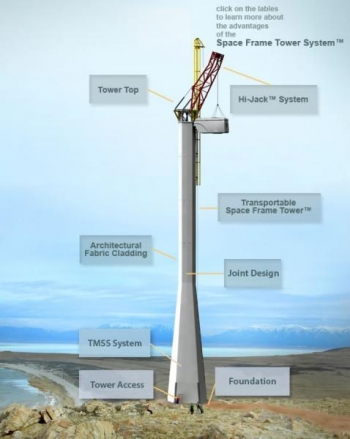 Link to image of Wind Tower System's Space Frame Tower™
Wind Tower Systems, a subsidiary of Wasatch Wind, was founded in 2002 to research, develop and commercialize new ways to make lighter, taller and easier- to-assemble land-based wind turbines. Since then, the Park City, Utah-based small business received early funding from the Department of Energy, which catalyzed investment from the California Energy Commission and private sources, and ensured that the promise of the company's innovative technology could be realized at commercial scale. As a testament to the importance of the Department's investment in innovative small businesses, Wind Tower Systems' 100-meter "Space Frame Tower™" technology was acquired by General Electric (GE) last month. 
The innovative design of the taller wind turbine towers offer greater power potential because higher altitude winds are stronger and these towers can be outfitted with longer blades. The combination of stronger winds and longer blades enable the turbines to capture more energy, improving wind farm developers' return on investment per unit.
With the support of $850,000 in Phase I and II Small Business Innovation Research (SBIR) grants from the Department in 2002 and 2003, Wind Tower Systems was able to complete the final engineering design for the 100 meter wind turbine tower that GE now plans to market. The grant also enabled Wind Tower Systems to hire a business advisor who worked with potential investors, opening doors to funding that would support commercialization of the innovative tower technology and position the company for a $1.5 million matching grant from the California Energy Commission. In May 2007, Wind Tower Systems was acquired by Wasatch Wind with the help of $3.6 million in private venture capital.
The Space Frame Tower™ was designed by Wind Tower Systems, and relies on a metal lattice structure – which is essentially a series of connected steel poles and crossbars that create the internal support for the tower, of which component sections can be bolted on top of one another vertically. This metal latticework is then covered with durable sheathing. Unlike the long, heavy tubular steel sections used to elevate conventional wind turbines, the metal lattice structure of this next-generation tower can be transported by standard flatbed truck and assembled on site. To address the practical challenges of building a 100 meter wind turbine tower, the novel design incorporates a crane-less, self-contained lifting system that can be mounted on the wind turbine tower during construction. Similar to the process used to build broadcast towers, the tower uses what's called a 'climbing gin pole' to drop tower sections vertically into place. The system also incorporates a novel lifting frame, mounted on the top of the tower before the last stage of construction, which raises the turbine nacelle and rotor components into place without the help of a crane.
GE has publicly indicated that it expects to make this next-generation wind tower commercially available by 2012. The successful development and transfer of promising new technologies by start-ups like Wind Tower Systems to industry leaders like GE is a poignant reminder of the key role small businesses play in winning the future: In all sectors of our economy, nimble and efficient companies like these drive innovation, create jobs and pioneer cutting-edge technologies. The Department of Energy is proud to support companies like these and their efforts to expand America's clean energy economy.
Mark Higgins is the Technology Viability Team Lead for the Wind Power Program.