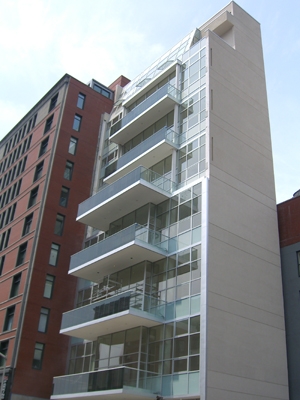 A balcony in New York where BIPV was used. | Photo courtesy Applied PV
Business partners Jeff Szczepanski and Rob Lyndall imagine a world where many of the buildings have walls, windows and other materials that are integrated with photovoltaic technology — that is, buildings that generate solar energy without necessarily adding panels to the roof. And because of new funding opportunities, that vision might not be too far into the future.
Applied Photovoltaics, located in Pennington, N.J., will manufacture solar energy modules for use in building-integrated photovoltaics. The company received just about $1.1 million in 48C manufacturing tax credits through the U.S. Department of Energy and the Internal Revenue Service under the Recovery Act. The tax credits will help offset the company's costs of just more than $3 million to ramp up the equipment needed to manufacture BIPV products. To understand what BIPV is, think of it as a building where the actual materials used in construction generate energy by absorbing the sun's power instead of having to add on panels after construction.
Jeff, in addition to his degree in physics, has marketing experience and is more of a salesman now. Rob is the "technological genius" behind the engineering that makes Applied Photovoltaics tick. Together, along with part-time workers, they have designed and built solar manufacturing equipment and acted as industry consultants. Now, because of the tax credits and the additional manufacturing work they have planned, Jeff and Rob hope to hire 25 full-time employees for the first phase of that project.
Together, Jeff and Rob have about 40 years of experience in the solar industry, so they are eager to implement their technical expertise and start building products themselves as a company.
"What we're trying to do is build a manufacturing line to cater to one of the largest areas of growth in the solar industry," Jeff says. "This is a tremendous opportunity to set up a line where we create American jobs and projects that hit the sweet spot of architects looking for renewable energy solutions."
Jeff notes that using BIPV in building materials instead of PV as a separate generating facility has a dramatically lower price point, and replacing conventional components with solar energy glass, for example, has very little to no cost impact. BIPV also helps architects compete for more LEED points — a U.S. Green Building Council leadership designation — which has led many of them to contact Applied Photovoltaics already, Rob says.
"The nice thing about the 48C award is it gave us even more credibility," he says. "It shows we have it together as a small company, without deep pockets or foreign investors, and our plan has been vetted by the government. That's the DOE and IRS stepping in to help the backbone of our country — small American businesses — in a sector that's growing dramatically."