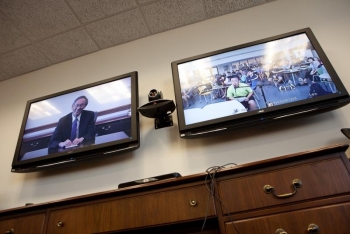 Secretary Chu chats via video conference with students from the Punahou School. | DOE photo, Courtesy of Quentin Kruger
Over the years, Punahou School in Honolulu has taught a number of esteemed alumni, from President Obama and The Kingston Trio members Dave Guard and Bob Shane to Dallas Cowboys offensive tackle Mark Tuinei, and now the next generation of world leaders.
Participating in Punahou's second annual Student Global Leadership Institute, 48 high school students from around the world have traveled to Hawaii for a two-week leadership program. This year's program is focused on energy. The students will explore a variety of global energy issues and develop year-long community service projects geared to solving energy challenges.
Yesterday, Secretary Chu participated in a video conference call with the students who come from 15 different high schools in China, Japan, Singapore, Jordan and the U.S. The Secretary spoke about U.S. and international efforts to move to a sustainable energy future through innovation in advanced technologies such as energy efficiency, renewable energy and carbon sequestration.
The students and Secretary Chu also discussed the role of international collaboration in solving energy problems as well as the outlook for a number of clean energy technologies including solar photovoltaics, offshore wind and advanced batteries.
Secretary Chu noted, "Everywhere I see a lot very smart people applying their attention and their talent to these issues. It's a three-fer – it's good for the world, it's good for the environment and it's good business."
Over the next year, the students will implement their own energy projects, helping their local communities leverage these environmental and economic opportunities.
You can learn more about the Student Global Leadership Institute here.