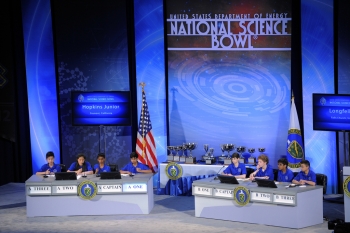 Longfellow Middle School from Falls Church, Virginia and Hopkins Junior High from Fremont, California, compete in the final academics round for the championship during the 2012 National Science Bowl in Washington, D.C. | Photograph by Jack Dempsey, U.S. Department of Energy.
This weekend, middle and high school students from across the country will converge on Washington, D.C., for the 24th annual National Science Bowl -- an intense academic competition that tests the students' knowledge in a number of scientific disciplines.
For the past few months, the students have been preparing -- practicing, drilling and devising strategies to outsmart and outwit their opponents. Altogether, more than 9,300 high school students and 5,200 middle school students from all 50 states, the District of Columbia, and Puerto Rico participated in this year's regional competitions. Organized into 116 teams of four or five students, the regional winners are ready to face off against the best of the best from schools across the nation.
During the competition, the students will be tested in a fast-paced question-and-answer style format on a range of scientific topics, including biology, chemistry, Earth science, physics, energy and math. After completing a series of round-robin and double elimination tournaments over the weekend, the final four teams will enter championship matches on Monday morning, determining which middle and high school teams will be named grand champions.
Beyond the quiz questions, the Science Bowl teams also participate in hands-on contests. On Friday, the high school teams will compete to solve hands-on science challenges that are later used to break ties between the round-robin and double-elimination segments. On Sunday, the middle school teams will race lithium-ion battery-powered cars they design, earning money for their school science departments.
For their success, the first place team in the National Science Bowl will receive a nine-day intensive science trip to Alaska, where the students will have first-hand opportunities to learn about glaciology, marine and avian biology, geology and plate tectonics. The second place team will receive a five-day guided tour of Great Salt Lake Park, Yellowstone National Park and Grand Teton National Park. The top 16 high school and top eight middle school teams will receive $1,000 for their schools' science departments. 
Follow along all weekend on Facebook, Twitter, Google+ and Instagram for live coverage of the competition.