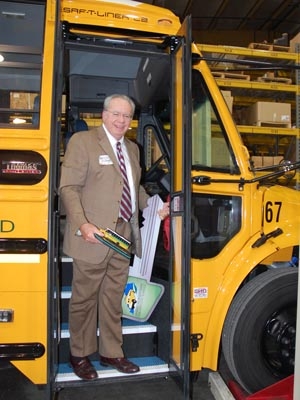 Ed McNeel, superintendent of Corbin's school district, poses aboard the district's new hybrid-diesel bus. | Photo Courtesy of Susie Hart.
It's September and traditional school buses are once again on the roads in large numbers.
However, throughout Kentucky, a new type of school bus will hit the road this year, as the state starts to deploy 213 new hybrid-diesel buses in 2010 and 2011. The project is part of the U.S. Department of Energy's Clean Cities program and is supported through nearly $13 million in Recovery Act funding.
Thomas Built Buses, one of the manufacturers of the buses, estimates that most typical diesel school bus engines get around 7.5 miles to the gallon. And with hybrid diesel technology, each district can expect around 12.5 miles to the gallon—increasing fuel efficiency by about 5 miles per gallon per bus.Where are you going?
Kentucky Clean Fuels Coalition, a U.S. Department of Energy Clean Cities partner, will be gathering data on every hybrid bus.
"We'll be able to tell you exactly how this has performed compared to a diesel bus, we'll be able to compare across counties and districts," says Melissa Howell, executive director for the Kentucky Clean Fuels Coalition. "We'll also be able to ensure that districts are running these buses on the optimal route to get the most of this technology."
Hybrid diesel engines work best with a stop-and-go driving technique. The school bus—with the need to stop frequently to pick up students—is an optimal candidate for this technology.
When a hybrid-diesel vehicle stops or slows down, the hybrid system captures the vehicle's kinetic energy to convert to electricity. The electric energy is stored in an on-board battery and re-used later to either speed up or power the vehicle.
Enthusiastically getting on board
"Whether they're getting one or 100 buses, it's a big deal for these districts," says Howell.
She also notes, "This is about more than just putting buses on the road; it's about working with educational groups and spreading awareness to students. The kids will be able to help track the data of cost savings, and they'll be doing their own evaluation of the information."
Howell says the districts are extremely excited about the buses.
"I've been told that a marching band is going to play at a future delivery," she says. "These buses are really impacting these communities."
Two weeks ago, the Corbin Independent School District in Corbin, Ky., added one hybrid diesel bus to their fleet of nearly 20 older buses. Joined by the town's mayor and district leaders, Corbin welcomed the new bus with an afternoon luncheon and get together.
"We're really hoping to spread awareness around the community with these buses," says Superintendent Ed McNeel. "Even in large vehicles you can make a difference. Teachers will be able to say it looks like a standard bus, but it's different. That's a huge teaching moment you can have out of these."
"We hope to one day get to this point where these buses are the norm," says Howell.