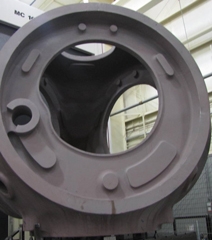 This part from the inside of a wind turbine might someday generate clean, renewable energy. | Photo courtesy Merrill Technologies Group
"Traditionally, we made automotive products," says Scott McKay, General Manager for Merrill Technologies Group in Saginaw, Mich. "After several ups and downs in that industry, we've opened our eyes to finding ways to diversify our line of products, and one of those areas is in making renewable energy materials."
Merrill is using $3 million awarded through the U.S. Department of Energy's State Energy Program and the American Recovery and Reinvestment Act to purchase equipment for manufacturing commercial-sized wind turbine systems for a strategic partner who owns the intellectual property. The result — Merrill joins other manufacturers in Michigan's growing clean energy economy industry and creates green jobs.
Because of the wind project retooling, Merrill has been able to recall laid-off employees and hire some new employees — about 40 in total. McKay estimates about 125 employees could be brought on, depending upon sales and production next year.

Geared up for wind
Because of growing government support for green energy, executives at Merrill saw the wind market as an opportunity to diversify its product lineup beyond the auto industry.
The company's expertise primarily lies in producing parts that help move cars and other systems forward. Thus, the company is suited to make similar parts that turn wind blades to produce renewable energy. 
"We specialize in design, manufacturing and assembly of large complex systems such as gearbox assemblies, valve testing equipment and large machine cells," McKay says.
MTG will make advanced-composite wind turbine blades and components. According to Merrill spokesperson Nate Jonker, the company's "high-tech machining centers and robotic cells enable the company to diversify and be flexible."  After receiving the $3 million award, Merrill also benefited from $22 million in tax credits to support its manufacturing of nacelles, the parts at the top of a wind turbine that converts energy produced by the turbine's rotation into electricity.
Areas in Merrill's existing plants were retooled for manufacturing wind turbine parts.  In addition, one of its five facilities was completely overhauled to serve as a testing and assembly area for finished wind turbine systems.
Future plans: Testing and jobs
Before Merrill's new equipment moves into full production of wind turbines, the company will submit its product to one of the U.S. Department of Energy's national laboratories. Merrill is in the midst of prototype production now and is slated to have prototypes to the National Renewable Energy Laboratory in Golden, Colo., by the end of 2010 for validation and testing. After validation, the company will move into building its pilot products.
"It's going to have a very positive impact on the state and surrounding areas," McKay says. "With incentives at the national level, I think renewable energy can be a big thing not only for Michigan, but also for the U.S. as a whole — but we plan to be a hub for the wind business and maybe even all types of renewables."
This project was highlighted in the Vice President's report on 100 Recovery Act Projects That Are Changing America