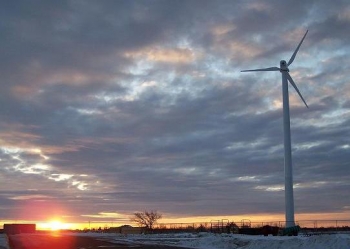 One of Riley County Public Works' new wind turbines. | Courtesy of: Riley County Public Works
It turns out there's more to harvest in Kansas than just the wheat and soybeans.
As one of the windiest states in the country, it's a great place to harness wind and solar power. And through the Department of Energy's Energy Efficiency and Conservation Block Grant program, the Resourceful Kansas team is teaching the rest of the state about all the technologies that are out there.
Resourceful Kansas used part of the $3 million grant to add additional energy technologies to the Riley Count public works facility in Manhattan, Kan. -- including four wind turbines, several different kinds of solar-powered street lighting and energy efficient lighting fixtures. The facility already had a ground source heat pump and solar-thermal hot water system. There are 19 total systems installed at this point.
"We felt it would be good for the citizens of Riley County and all of Kansas to have an example to go and see," said Rod Meredith, Assistant Public Works Director for Riley County.
And these improvements are already paying off.
By generating their own electricity through wind and solar power, Riley County is saving local taxpayers $50,000 a year. With the wind turbines under warranty for about 25 years, this means a $1 million in savings!
"It's nice to know that everything I produce, I'm using," he said, noting that it is somewhat dependent on the wind and sun. "It'll pretty well power our whole facility."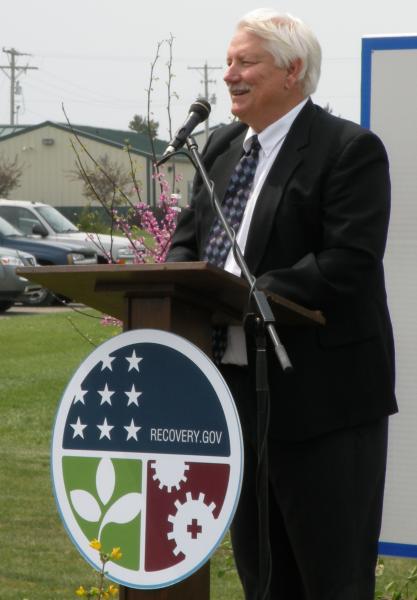 Rod Meredith speaking at the Resourceful Kansas ribbon-cutting ceremony. | Courtesy of Riley County Public Works
The remaining grant funds will support eight seminars and technical assistance for those organizations or institutions interested in implementing some of the same energy improvements. The first two seminars filled up quickly and there are already people signing up for the July and October seminars. Schools, universities, city governments, agribusinesses and even a prison have sent representatives to learn about the energy options showcased at the facility.
"What we do is show them what can be done, and then teach them how to go do it," he said.
Speakers cover everything from available energy-saving technologies, like the ones in use in Riley County, to financing options for getting these systems in place. After the seminar, partner organization GBA Architects + Engineers will do a free energy audit for some participating facilities to help figure out which options are the most cost-effective and beneficial.
Another Resourceful Kansas partner, nearby Kansas State University, sends experts to present at the seminars and will use the facility for graduate studies, teaching and research. Researchers are monitoring the data and will post results online in the coming months.
"I'm very curious to see how efficient they all are and, fortunately, K-State's research will shed a lot of light on that," Rod said.