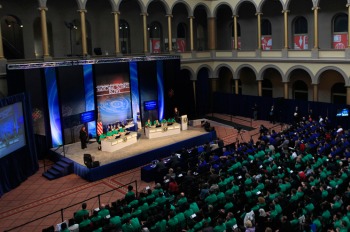 The National Science Bowl finals take place each year in the National Building Museum. The top regional teams come to Washington, D.C., in the spring as they as they advance to National Finals. Registration is now open at the NSB website. | Photo by Dennis Brack, Energy Department Office of Science
Registration for the nation's largest science competition opened today, offering middle school and high school student teams the chance to test their skills in math and science knowledge in the 2013 National Science Bowl (NSB).
Designed to encourage students to excel in science and math and to pursue careers in those fields, the National Science Bowl brings together thousands of middle and high school students from across the country to compete on a range of science disciplines in a fast-paced, Jeopardy-style format.
The winning teams from the regional competitions will be awarded all-expenses paid trips in Washington, D.C., next spring as they advance to National Finals.
Last year, a total of 113 regional competitions took place between January and March 2012. About 9,000 high school students from some 1,850 teams participated in the 69 high school regional events held across 42 states as well as D.C., Puerto Rico and the U.S. Virgin Islands. About 5,000 more middle school students from 1,100 teams participated in 44 middle school regional competitions in 32 states and D.C. 
To register for their respective regional competitions in the upcoming Science Bowl, teams should go to the National Science Bowl website at http://science.energy.gov/nsb/. In addition to basic registration information, the website also provides information on how teams can prepare and what they can expect in the upcoming regional events.