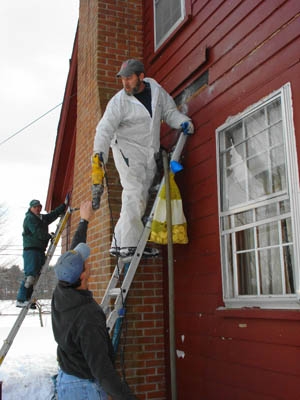 Weatherization auditors and crews assist in making a Vermont home more energy-efficient in New England winters. | Photo Courtesy of Southeastern Vermont Community Action (SEVCA) Agency |
Morgan McKane spent most of his career in southeast Vermont working in the construction business but started looking elsewhere last year when it became less and less stable. "I needed work – something steady with a paycheck," says McKane. 
He found that stability at the Southeastern Vermont Community Action (SEVCA) agency, where he now works as a full-time weatherization auditor, helping low-income residents increase their energy efficiency and quality of living. McKane conducts energy audits, looking at insulation, air leaks and other factors that impact a home's energy efficiency, heating and cooling.
Because of increased funds to the U.S. Department of Energy's Weatherization Assistance Program from the American Recovery and Reinvestment Act, the community action agency, one of five in Vermont, has hired eight new workers and weatherized 113 more homes than last year.
One office, one cohesive community
While some community action agencies in other states work with contractors and subcontractors, SEVCA remains at one central location in Westminster, Vt., and functions entirely on its own crew of auditors, crew technicians, and office workers.
"It allows for really tight knit communication across the agency," Harald Schmidtke, SEVCA weatherization director, says.
McKane adds that the weatherization team works like "a brain trust," which helps facilitate the growth and success of the program. He notes that weatherizing homes with SEVCA has shown him how these houses are "not just a bunch of pieces that work individually – it's all part of a system."
In contrast to his previous work as a private builder, McKane says that the weatherization program of SEVCA has allowed him to share and build off the experiences of his weatherization peers, some of whom have worked for the agency for nearly 20 years.
"Everyone works like a team; everyone is willing to share," says McKane. "I think everyone has their heart in it. I think we see weatherization as a really worthy process."
 Hitting the milestone
The Vermont state weatherization recently hit a significant milestone.  Working with the five agencies, the state has weatherized an additional 840 homes -- more than 50 percent of the state's total Recovery Act target of servicing 1,600 eligible homes. The Vermont state weatherization office received $16.8 million under the Recovery from the U.S. Department of Energy's Weatherization Assistance Program.
Of the 840 homes Vermont has weatherized under the Recovery Act through June 2010, SEVCA has completed 113.
"I'm really proud of the state of Vermont and the people in our agency. We've strived to be the best we can be at all times. It's something we live for," Schmidtke says. "The people here are so dedicated and that's what makes things work to the degree they are."