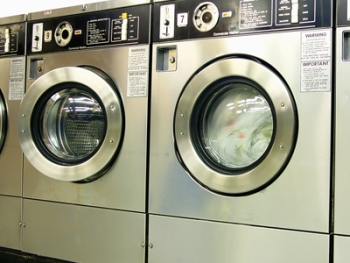 More than 7,500 of Oklahoma's 16,300 rebates were for ENERGY STAR clothes washers. | File photo
Oklahoma's Appliance Rebate Program swept through the plains in May, providing residents a break on upfront appliance costs and ensuring long-term energy savings.
Oklahomans claimed more than 16,300 rebates in less than a month on ENERGY STAR refrigerators, clothes washers, single room air conditioners, water heathers, central air conditioners, air-source heat pumps, furnaces and ground-source heat pumps.
The $3.5 million program, funded by the American Recovery and Reinvestment Act, distributed rebates throughout the Sooner state ranging from $50 for single-room air conditioners to $250 for heat pumps.
"We were pleased to see a very wonderful, even spread across the state," says Kylah McNabb, program manager. "If consumers were on the fence, this spurred them and gave them the means to buy these appliances."
The program spurred $26 million in appliance sales.
More than 400 vendors participated in the program, reporting great traffic and strong sales, says McNabb. "Consumers were able to buy a high-efficiency appliance, get a substantial rebate at the point of sale and, most important, see long-term energy savings on their energy bills and consumption."
The most popular items—refrigerators and clothes washers—totaled more than 15,000 rebates. "Refrigerators and clothes washers were by far the most popular appliances sold, generating more than 92 percent of all rebates," says McNabb.
"The long-term impact will be in energy savings," says McNabb, who estimates the total expected lifetime savings for all the appliances in the rebate program will be more than 39 million kWh—enough to power more than 1,200 homes per year. The estimated savings also includes more than 565 million gallons of water from the energy efficient clothes washers.