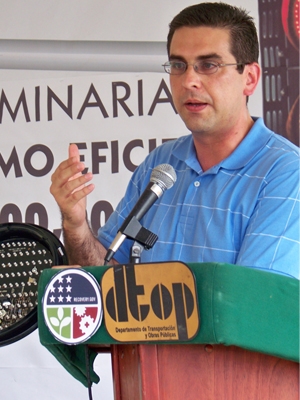 EAA Executive Director Luis Bernal addresses an audience about Puerto Rico's State Energy Program. | Photo courtesy EAA
Buying fruits and vegetables at the Las Piedras farmers market is now more comfortable for the thousands of Puerto Ricans who shop there regularly. And, the reason for that comfort — revamped air conditioning — is costing the city less in energy costs than before.
From market to city hall -- energy across the island
Through the State Energy Program (SEP) and the Recovery Act, the island was awarded $37 million to put toward projects like the one at the Las Piedras market. Mayor Miguel Lopez says the "market" upgrades will save the city more than $16,000 in energy costs annually.
"This project will allow us to have more-comfortable facilities for our visitors, more energy-efficient consumption, to be more responsible with our environment. And the energy savings help us to invest in more projects that benefit our people," Lopez says.
With its Recovery Act funding from the State Energy Program, Puerto Rico has created 11 programs that will help residents and businesses save energy and money, and officials in the state energy office calculate 22 direct jobs and estimate 394 indirect jobs created.
In Gurabo, in eastern Puerto Rico, $99,000 in SEP funding is supporting the installation of a solar energy system at the city hall. The clean, renewable energy system will save an estimated $5,400 annually and generate more than 20,000 kWh each year. A lighting retrofit in the city will save almost $35,000 yearly.
Additionally, cities throughout the island took part in a Traffic Signal Retrofit Program that involved replacing 4,803 light with LEDs. Luis Bernal, executive director of the Energy Affairs Administration, Puerto Rico's state energy office, says the new traffic lights are expected to save about $1.2 million annually in energy costs.
"People are seeing a new way of how we do things, a new generation that invests in being green and that is committed to finding energy savings," Bernal says.
Energy savings and job growth
The EAA is looking to help homeowners and businesses adopt energy-efficient and renewable energy technologies at low costs. The plan is to help the businesses save money on energy costs while also stimulating job growth in the energy sector and cutting down on pollution on the island.
Solar, wind and building efficiency programs were established, and other programs have been set up to ensure the funding is properly overseen, that building codes are met and to educate the public about saving energy.
Javier Nunez, the SEP program manager, says his agency has received hundreds of applications and that some of the programs have already closed.
Nunez talks about energy a great deal; he hosts a radio show on WAPA Radio out of San Juan each Friday from 6 to 6:30 p.m.
"We talk about the different programs and how they are impacting society on the island right now," he says. "We talk about how Puerto Rico is moving forward and getting greener."