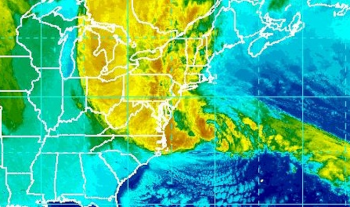 Sandy made landfall as a post-tropical cyclone on the southern coast of New Jersey near Atlantic City at 8 p.m. with top sustained winds of 80 mph. | Photo courtesy of NOAA
As of 8:00 pm EDT on October 29, there were more than 3.6 million customers without power in the affected states. The Energy Department is continuing to monitor the progress of the storm throughout the night and will publish its next full Situation Report at approximately 10:00 am EDT on October 30th, including the latest available information on power outages. 
The Department is working closely with our federal partners, including the Federal Emergency Management Administration (FEMA) to support state and local officials who are responsible for working with utilities as they respond to the storm.