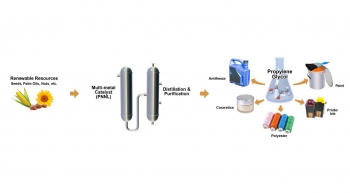 A highly efficient catalyst to convert renewable crops into the product propylene glycol was discovered by scientists at the Pacific Northwest National Laboratory (PNNL) and commercialized by the Archer Daniels Midland Company. | Image courtesy of PNNL.
If you use liquid detergent, pharmaceuticals, cosmetics, paint or antifreeze in your car, then you're most likely consuming some of the 2 billion pounds of oil that are used worldwide every year to make the product propylene glycol.
In the United States, the majority of this oil is imported from foreign countries -- but about a decade ago scientists at the Energy Department's Pacific Northwest National Laboratory (PNNL) in Richland, Washington, created a breakthrough catalyst that converts sugar alcohols from corn, soy, and sunflowers into propylene glycol so efficiently that plant-based, U.S.-grown propylene glycol products could finally be cost-competitive with the traditionally oil-based ones.
"It's great to help bring this renewable chemical process to the marketplace," said Alan Zacher, a chemical engineer at PNNL. "This technology  not only reduces our dependence on foreign oil, but it actually competes economically with old process for making propylene glycol from petroleum."
In 2005, a bio-based chemical company called the Archer Daniels Midland Company (ADM) learned about this discovery, and after creating a viable business plan to commercialize the process, signed an exclusive agreement to license the new technology in 2006.  Last year, the Archer Daniels Midland Company completed construction of a large-scale, 100,000 metric ton, industrial plant in Decatur Illinois. Today, ADM's Decatur plant, the only facility producing bio-based industrial propylene glycol from renewable sources in the United States, is able to produce 200 million pounds of propylene glycol a year.
ADM's propylene glycol is made with American renewable resources and by American workers.  In addition, the process to produce it creates less than half the carbon pollution as traditional oil-based propylene glycol production.
The ADM facility is creating the propylene glycol from a byproduct from the production of biodiesel.  "Even the feed is a byproduct from a renewable fuel process," said Alan Zacher.  "Not only can we reduce our use of petroleum, but we can make better use of a byproduct that renewables companies are already generating."
Dr. Paul Bloom from ADM discussed the essential nature of the company's partnership with PNNL in creating this new product.  "ADM's relationship with PNNL really builds on our complementary strengths. Where PNNL is great at doing early stage, fundamental technology, ADM is great at process development and scale up technology. So the combination of ADM with PNNL allowed us to buy down early stage technology risks. In addition to that, we were able to access some great technology skillets that just aren't that common in a corporate environment."
In 2010, Pacific Northwest National Laboratory  and ADM won a 2010 R&D Award for their novel and promising new product.
Much like Los Alamos National Laboratory's RFID technology and the National Renewable Energy Lab's new thin-film photovoltaic (PV) solar panels, PNNL's plant-based propylene glycol represents another example of the important relationship between national laboratories and the private sector -- a collaboration that is helping American start ups and businesses compete in the global clean energy economy.