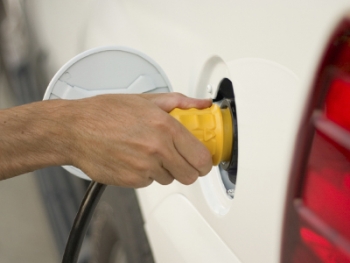 Nearly 300 electric vehicle charging stations are scheduled to be available throughout the Orlando area next year. File photo
This scene is closer to reality as Orlando, Fla., prepares to get nearly 300 EV charging stations within the next year as part of Coulomb Technology's ChargePoint America program: Imagine spending the day at a theme park in Orlando. After hours of rides, games and fun, you head back to your rental car, which is plugged in at an electric vehicle (EV) charging station in the parking lot.
Getting the city charged
Coulomb's investment—made possible by $37 million in funding, $15 million from the Recovery Act's Transportation Electrification Initiative—will provide charging stations to nine metropolitan areas across the country. Coulomb will provide nearly 5,000 residential and public charging stations overall.
"It's a high visibility location," says Jon Ippel, Orlando's sustainability manager. "[During a ribbon-cutting ceremony,] a lot of people walked by it and asked great questions."The first public charging station is housed in a parallel parking spot in front of Orlando's city hall.
So far, Ippel has seen a few cars using the station, but expects usage to increase when the Nissan LEAF is released later next year.
In the next few weeks, the spot will have signage about EVs and the program around Orlando. "Because central Florida is realatively low-density, electric vehicles are a pragmatic way for us to explore ways to cut down on gas and emissions," says Ippel.
Wait listed
Mark Thomason, a native Floridian, is on the waiting list to receive an EV this spring. Thomason, the director of business development at Palmer Electric Company, says the charging stations couldn't have come at a better time.
"There's no better way for any American that has to have a car to lower their green house gas emissions," says Thomason. "This is a significant way for people to lower their carbon footprint."
Get Ready
Both Ippel and Thomason serve on the Get Ready Central Florida campaign, which works to spread awareness about Orlando's upcoming EV charging stations. The campaign is part of Project Get Ready, which was started by the Rocky Mountain Institute to help cities distribute information for consumer outreach, engage communities and establish EV infrastructure.
Although he was just an EV enthusiast when he joined Get Ready Central Florida, Thomason now works at locating potential EV charging stations in Orlando. He speaks with property managers about the benefits of hosting a charger, and helps facilitate the selection process.
Thomason says the ideal places for EV chargers are public places where residents would spend at least a half hour—places like shopping centers, retail locations, office parks, parking garages and airports.
"When people hear the benefits of getting one of these chargers, they get excited," he says.
Project Get Ready is also working on promoting green tourism for Orlando. Ippel finds that a fair number of tourists are interested in green vacations. Since Orlando thrives on tourism—metro Orlando is home to places like SeaWorld, Universal Studios and Walt Disney World Resort—Ippel hopes the high number of EV charging stations and partnerships with airports and car rental companies will allow tourists to use EVs while visiting the city.
"Instead of renting a gasoline vehicle, tourists may choose to rent an EV as both a way to add to their vacation experience and test if EVs may be a worthwhile investment back home. I am confident they will enjoy the experience," Ippel says.