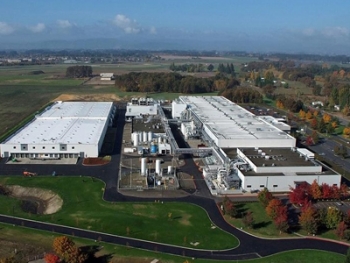 SolarWorld received an $82 million tax manufacturing tax credit for expansion of its Hillsboro, Ore., solar plant. They project
With six kids and a wife, 32 year-old Tobin Tidwell of Hillsboro, Ore., didn't want to pick up and move for a new job. But the Army reservist, who worked on tanks while on active duty, had years of maintenance experience. He felt those skills could be put to good use fixing wind turbines – found more often in the heartland, like Nebraska or Missouri.
His employment situation was looking grim until he ran into some buddies working at SolarWorld Industries America in Hillsboro.
"I actually happened to visit with them, and let them know that I had interviewed to get a wind turbine technician job," says Tidwell, who spent time at the Fort Lewis, Wash., base while on active duty. "But then they said, 'there are maintenance positions here. And you won't have to move your family.'"
Hiring veterans and expanding
The timing was good for both Tidwell and SolarWorld. 
As the largest and oldest U.S. solar manufacturer, SolarWorld was in the process of expanding production and adding hundreds of new jobs with support from a 48C Advance Energy Manufacturing Tax Credit worth $82 million through the Recovery Act.
In May, Tidwell was hired as a maintenance technician at the plant, thanks to his coworkers who referred him to the company.
In addition, SolarWorld is one of the many companies participating in the Yellow Ribbon Integration Program, a statewide effort in Oregon to help place soldiers back from active duty into jobs.
Many of the men in the Integration Program were in the National Guard and other branches of the military and spent time in Afghanistan and Iraq.
"People are putting their life on the line," says Bob Beisner, vice president at SolarWorld in Hillsboro, "and the least we can do is try to help them when they get back."
More MWs and jobs
Beisner says SolarWorld's expansion, which adds 200,000 square feet of space to its 480,000 square-foot facility, will take annual production capacity from 140 to 500 MW.
The company's Hillsboro campus is a production facility that converts raw silicon into photovoltaic wafers, cells and modules. 
The new addition is a module assembly factory that will be complete by late 2010. However, the company has been hiring on people since January of this year.  The number of employees has grown from about 540 in January to 965 today.
The project also created about 200 temporary construction jobs.
According to Beisner, the company has hired production operators, engineers, accountants, and maintenance technicians, like Tidwell, to work at the plant.
"I love it. I get to use my maintenance background," says Tidwell. "I'm telling everyone that I know that is out there about it."