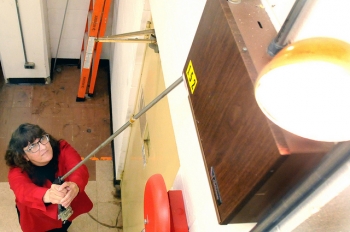 Editor's Note: Cross-posted from Argonne National Lab's Portraits of ARRA.
Rebecca Bivens, who worked for a major oil company for seven years before she was laid off in January 2008, was elated to land a job that summer at one of the world's largest equipment manufacturers.
That is, until the company laid off her entire division the night before Christmas Eve.
"No one saw it coming," said Bivens, who spent years working in safety and procurement. "Just the month before, they said we were doing great. After losing two jobs in a year, it was pretty depressing. It was scary."
While her first employer gave workers two months' notice -- enough time to start looking for a new job and save at least a little money -- the second layoff was a total shock.
Bivens and her family had already cut back on cable and they stopped dining out. At one point, both she and her husband, who works in construction, were unemployed. They started falling behind on a couple of bills and could no longer afford to help family members who were struggling themselves.
Bivens started looking for work on December 26, sending out more than 100 resumes. She bypassed the Internet and applied for work the old-fashioned way, expanding the circumference of her search with each passing week.
"I started driving to all of the industrial parks and dropping off my resume, if they let me in the door," she said. "For those that didn't, I wrote down their address and mailed it to them later."
Then came her big break.
Bivens applied at Argonne and was hired in April 2009, four months after she lost her second job. She now works in safety and procurement. Her job is funded by the American Recovery and Reinvestment Act.
Bivens said she's wanted to work at the laboratory for years and that she sent Argonne an unsolicited resume a decade ago. There were no openings and she didn't hear back.
Ten years later, her luck would change.
"When I got the interview, I was so excited," she said.
She didn't hear from the lab for a few weeks and thought the opportunity had passed. Then her 11-year-old step-daughter asked about the position. The little girl told Bivens the lab would be lucky to have her.
"The following morning, I got the phone call," she said.
It's been a valuable experience, she said. Not only has it given her family a sense of financial stability, but the job has also allowed her to expand her knowledge base.
"Government procurement is not like any other," she said. "There are so many rules and regulations. It was a challenge to learn all of the dos and don'ts -- especially with Recovery Act money. But I enjoy the work. And everyone I've come into contact with has been so pleasant; that's what makes this job so fun."