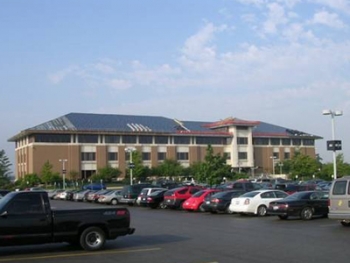 The Kane County Judicial Center is one building that received retrofits to save the county energy with a Recovery Act-funded block grant. | Photo courtesy of Kane County
West of Chicago, one Illinois municipality is putting its $2.2 million Energy Efficiency and Conservation Block Grant to work on nine projects.
The municipality – Kane County – is looking to save money and provide a base for green collar jobs.
"We're looking at how to be a county that leads by example and realize cost savings on our own energy bills, which will allow us to potentially make additional improvements in the future," says Karen Kosky, an engineer in the county's Department of Facilities, Subdivision and Environmental Resources.
The EECBG grant to the county is from the U.S. Department of Energy via the American Recovery and Reinvestment Act.
Kane County has developed several avenues for using its EECBG funding, including the retrofitting of lighting, roofing and HVAC systems in six of its buildings.  These retrofits could save as much as $150,000 each year on energy costs. At both the judicial center and the juvenile justice center, the county swapped out existing interior and exterior lights with energy efficient bulbs and is upgrading lights in the surrounding parking lots.
A total of 424,000 square feet of buildings will receive retrofits in the end as the county moves on to other buildings, identified for upgrades through an energy audit.
Energy conservation jobs, supply and demand
Another program in the works involves establishing a training program for local builders that will educate them about how to conduct energy audits and install renewable energy products, such as solar panels.
Elgin Community College will run the six-course program, set to begin in fall 2010. In all, 30 students will take part in the first class and are receiving tuition assistance through the Recovery Act funding.
"Training contractors in the technical aspects of sustainability in their trades is a real benefit to the community, to the continuing education of the contractors involved - and to the college where this program is expected to be sustained after the first round of EECBG funds have been spent," says Thomas VanCleave, chairman for the Kane County Energy and Environmental Technologies Committee.
"I look at this as an energy conservation supply and demand cycle," says Kane County's Kosky. "By implementing these programs, we can help jumpstart that cycle. Hopefully, we'll see both the demand for conservation products and services as well as the supply of green products and jobs grow as a result of these programs - even after the programs are complete."