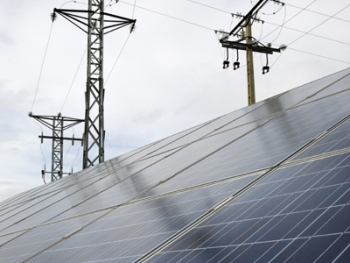 METRO Regional Transit Authority of Akron, OH is installing a solar energy system such as this on the central bus barn's roof. | Energy Department Photo |
Updated Oct. 13, 2010.
Replacing a roof can often lead to a big budget hole without significant financial return. And that was no exception for the METRO Regional Transit Authority of Akron, Ohio when it was looking at replacing the roof of its central bus barn as part of a system-wide replacement effort on old, leaky roofs. The central bus barn houses 70 buses.
That changed with an American Recovery and Reinvestment Act grant.
The transit authority is now anticipating an estimated $40,000 savings once a 488 kW photovoltaic (PV) solar energy system on the central bus barn's roof is complete. The $2.6 million system, expected to be activated by the end of July, is funded in part by a $1 million grant under the U.S. Department of Energy's State Energy Program.
"We were actually working on a project to replace the roof at the bus barn. When the grant became available at the same time, we were able to expand our projects with those extra funds," says Dean Harris, director of finance. "It's a way to spend capital that eventually saves us on operating costs."
The rooftop PV system is expected to produce an estimated 15 percent of the transit authority's annual energy needs at the bus barn.
The system is the second for the authority - a 133 kW solar energy system at the authority's intermodal building, installed in 2009, and now generating 22 percent of that building's annual energy needs.
Though existing internal staff at METRO will maintain the solar equipment, two companies were used as subcontractors - a solar panel installer and an electrical company - for the installation of the system at the bus barn.
Harris says the authority is planning a third, 345 kW solar energy system next to the bus barn array as the organization continues considering ways to save energy. The two combined systems are estimated to save 25 percent of the main complex's energy costs.
"We're a very green group - obviously, we like public transportation, and we felt solar was another something we could do to save energy," he says.
Note: The solar array went online Aug. 15, 2010, and saved $10,000 in the first six weeks of operation. A third array is under construction and expected to be online by the end of 2010.