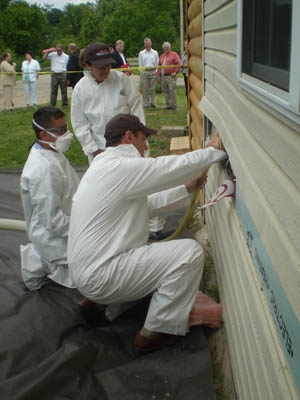 Ohio has reached a milestone in the clean energy economy — more than 10,000 homes in the state have been weatherized, making the state one of the national leaders in helping income-eligible families become more energy-efficient.
Ohio officials celebrated the success of weatherization work funded by the American Recovery and Reinvestment Act with about 100 attendees at a special event Monday in Newark at the home of James and Darlene Carr. The couple opened their home for a demonstration of state-of-the-art weatherization techniques and equipment.
Workers from LEADS, the community action agency serving Licking County, used an Ohio-made machine to blow insulation into the sidewalls of the Carr's 100-year-old home, demonstrating how the cellulose — made from recycled paper in Bucyrus, Ohio — is densely packed into wall cavities to provide a barrier from cold and wind. The crew also demonstrated how it uses building science to determine where leaks need to be sealed in a home by depressurizing the house with a blower door test and by checking insulation quality with an infrared camera. A careful balance is required when weatherizing so a house stays warm or cool when it should be, but also so that the seal isn't so tight that it leads to poor indoor air quality. The Carrs' furnace and hot water heater were both replaced with safer, more energy-efficient models.
"They did an outstanding job, and I'm looking to save about 30 percent on my energy bills," says James Carr. "I saw an advertisement, and then I went down and filled out the application at LEADS — it was just an answered prayer when they approved us."
James is disabled, and his wife works at the local hospital. They are now raising three grand-nieces and a grand-nephew, ages 5 to 8. The improvements to their home will help them continue to care for the children in a safer and more comfortable environment.
"It got cold in the winters before, and we had to use propane heaters and a wood burner, but it should be a lot better now," James says.
Congressman Zack Space, D-Ohio, was on hand for the event, highlighting the significance of weatherization as a component to recovery in the U.S. He said work being done by community action agencies "is a spark which is going to ignite a very important part of the new economy."
LEADS itself has hired and trained 15 new crew members since receiving Recovery Act funding in April 2009, and more than 1,300 new jobs have been created across Ohio in that time.
"The last time we saw such a shift in the economy was when Henry Ford figured out how to produce vehicles that were easy to manufacture and affordable to buy," Space said. "Not only will we see millions of Americans put to work, but … here in Ohio, we are positioning ourselves to be at the front of this wave of the new energy economy."
The Carrs' home was weatherized by LEADS Community Action of Licking County, one of 52 community actions agencies across Ohio that are helping residents save money and hiring citizens in green-collar jobs. More than 11,000 homes have been improved throughout Ohio since March 2009. Ohio received $267 million in Recovery Act funding for weatherization.