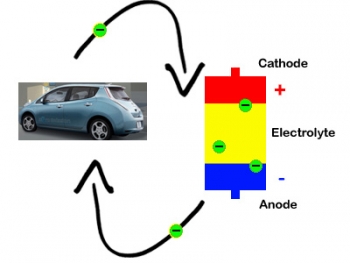 Electric vehicles are powered by electricity that comes in the form of electrically charged molecules known as ions. Those ions need a substance to transport them throughout the system as they travel from the anode to the cathode and back again. That substance is an electrolyte. | Staff Photo Illustration
Just outside Baton Rouge in Zachary, La., sits Novolyte Technologies, a battery component manufacturer in business since the early 1970s, making components for batteries used in everything from calculators to hearing aids.
But now, much of Novolyte's focus is on the growing, domestic electric vehicle (EV) industry. For Novolyte, this means manufacturing more electrolytes, a key component for lithium-ion batteries used in EVs.
The company is in a unique position; it's the only U.S. manufacturer of a type of nonaqueous electrolytes used in lithium-ion batteries, and it's expanding to support the domestic lithium-ion batteries market.
The expansion, funded in part through a $20.6 million American Recovery and Reinvestment Act award from the U.S. Department of Energy, will allow Novolyte to produce more of its electrolytes and continue working closely with U.S.-based companies testing batteries for EVs.
"Through the Recovery Act, we're seeing some of our customers build more plants, and it increases confidence in the auto industry overall that the battery supply capabilities are going to be here in the U.S.," says Novolyte Vice President Ralph Wise. "The auto companies look to us and say they have more confidence to put capital forward and invest in the electric vehicle market."
Electrolytes — not just for sports drinks
Mix a solvent and a salt, and basically, the result is an electrolyte.
Electrolytes are a key substance through which ions — electrically-charged molecules — in batteries are transported from the anode to the cathode during discharging and back again when recharging.  Often, electrolytes are aqueous — meaning they contain water — like in a sports drink.
To prevent a volatile chemical reaction, electrolytes that interact with lithium — as in lithium-ion batteries — need to be nonaqueous. In fact, Wise says producing such a solution isn't a trivial matter —only a handful of companies worldwide are manufacturing these electrolytes.
The expansion at Novolyte's Louisiana plant is already under way and is expected to be a five-year project. The company is constantly tracking its customers' needs and the manufacturing capacities of companies that make other battery components to ensure its expansion is finished at the same time that the market demand for electric vehicle batteries is on track to increase.
Customer needs during the next five years will dictate how much additional hiring Novolyte must do along with its expansion, but the company is already hiring about 20 manufacturing and office workers for the first phase. The project is primarily capital-intensive, so a great deal of the investment is actually funding improvements to the plant's infrastructure. Wise expects the expansion to be complete and production to reach full capacity between 2012 and 2013.
"The key issue is to make sure the supply chain in the U.S. is mature enough and large enough so that the battery companies putting facilities here are going to meet market needs when our customers require components," Wise says.