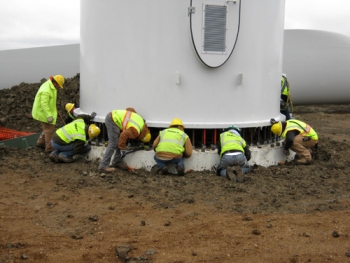 Construction teams set up a turbine foundation in Minot, N.D. | Photo courtesy of Basin Electric Power Cooperative
Wind energy is taking off in the Dakotas, contributing hundreds of megawatts of power to the grid and putting hundreds of people to work.
Take two of Basin Electric Power Cooperative's PraireWinds projects, for example. The 80 wind turbines scattered across the plains in Minot, N.D., are generating enough energy to power about 35,000 homes a year. Eighty-five miles to the south, the Wilton Wind Energy Center's 66 turbines, which were built by NextEra Energy Resources, are pumping out enough energy to power another 30,000 homes. 
That's a lot of clean energy production, but it's really just the tip of the wind turbine.In total, Basin Electric's projects — either owned or purchased — will be dishing out about 600 MW of wind energy when completed to its 2.8 million customers spread out over nine states.
"This is quite an injection of jobs into the local market," says Ron Rebenitsch, manager of alternative technologies for Basin Electric. "The communities are very receptive. It's a significant increase in the local tax base, and it's bringing local jobs to an area where very few jobs exist."
In fact, the company's four wind farms, which are either completed or in development, have created 20 permanent green jobs and more than 275 construction jobs in North Dakota and South Dakota.
With all these contributions, it's no wonder the U.S. Department of Energy granted Basin Electric its "Wind Powering America Program" Special Achievement Award in February.
During the National Rural Electric Cooperative Association's TechAdvantage Conference in Atlanta, the DOE awarded Basin Electric the honor for its outstanding leadership with wind power and significant contributions to the wind power industry.
"This is a challenge and a risk, so we were very pleased to see the recognition of our efforts," says Ron, adding that the PraireWinds project in North Dakota is the largest wind project solely owned and operated by a cooperative in the nation. 
Looking to expand the PraireWinds projects into South Dakota, Basin Electric plans to start constructing a 152-MW wind farm in the central part of the state this summer.
By the end of the year, the consumer-owned cooperative hopes to have green or renewable generation with an installed capacity equal to more than 20 percent of current member load. 
"The real driver is the need for this tremendous resource," Ron says. "These projects are an opportunity to diversify, and we wanted to better position ourselves and our membership to help meet the challenges on the horizon."
Editor's note: Story was updated for jobs figures on August 2, 2010.