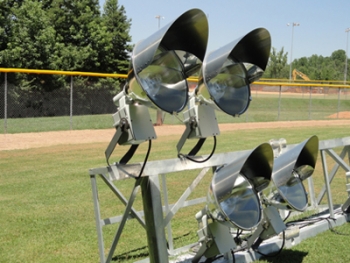 Energy efficient metal halide lighting is replacing the outdated lighting system at Mecklenburg Park. | Photo courtesy of Michael Jaycocks
Nearly 600 games are played on four athletic fields as North Mecklenburg Park, one of the largest parks in Huntersville, N.C.
Busy as it is with 277,000 annual visitors, the park had a major problem: The 20-year-old field lighting system was not only inefficient but also increasingly unsafe for recreational softball leagues, high school teams and the public.
"Staff would have to turn lights on early for games and practices to be able to turn lights on at other parks before it got too dark," says Michael Jaycocks,
Huntersville Parks and Recreation director. "And the wooden poles that the lights stood on were shifting a lot more over time."
In May, Huntersville received a $175,100 Energy Efficiency and Conservation Block Grant (EECBG) funded through the American Recovery and Reinvestment Act to replace the deteriorating lights for two of the town park's athletic fields.
According to Jaycocks, the project is expected to reduce energy consumption at North Mecklenburg Park by 20 percent and save $1,000 per field annually on electricity bills. The current system costs almost $15,000 per year to operate.
The cost savings will offset cutbacks prompted by a tough economy.
"We've had to deal with big budget cuts," Jaycocks says. "The grant will help us be able to keep the park running as it always has for visitors."
After several weather delays, the new lighting system is scheduled to be installed and in operation by the end of July. All of the old lights will be recycled.
Safer to slide into third
Jaycocks says the new energy efficient lighting system will be a vast improvement over the existing one.
"With the old lights, players at First and Third base would lose sight of the ball because of the glare," Jaycocks says. "Not only did this hinder the games, it also became a hazard for the players on the field."
New remote-controlled technology will allow coaches and players to turn the lights on and off using pass codes depending on when the field is in use. Though staff members usually stayed on site during games to operate the lights, the remote-controlled lighting would minimize their need to come out and thus free up costs.
In addition, the new metal halide lights will stand on sturdier steel poles and utilize anti-glare technology which will provide safer, more consistent lighting on the two fields.
While Huntersville had several other projects on its EECBG wish list, including retrofitting town facilities, replacing the town park's lighting made the most sense because of its importance in the community, says Bobby Williams, management assistant for Huntersville.
"This park serves the entire area for tournaments, events and local baseball and softball leagues, so the lighting project was essential," Williams says. "Any new lights would blow away what we had before."
Editor's note: This story was modified on July 28, 2010 to update the actual number of annual park visitors.