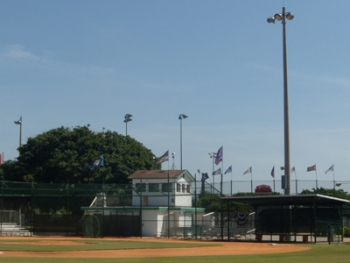 Metal halide light fixtures at Pompey Park are saving the City of Delray Beach money on its electricity bills. | Photo courtesy of the City of Delray Beach
Delray Beach, Fla. had a good problem: Recovery Act funding to support the city's mission to reduce energy costs – but no seasoned pro to help realize those savings.
Through an Energy Efficiency and Conservation Block Grant (EECBG), the South Florida city hired a former city manager to oversee projects that would deliver both energy and financial savings. 
"Before my position was created, Delray Beach did not have one person who could coordinate the efforts of different departments to invest in green technologies or to communicate to the public the efforts the city was undertaking to make the community greener and more sustainable," says Richard Reade.
Reade was hired as Delray Beach's sustainability officer in October 2009 after the town received $638,500 in EECBG grant. 
And then his work to save the city money began.
New role, new lights
In his new role, Reade allotted $330,000 of EECBG money to replace 116 light fixtures at Delray's Pompey Park with 82 metal halide light fixtures. The halide lights produce more light on less electricity.
The city is also installing a computer-based system that will allow parks and recreation officials to program exactly when the lights turn on and off, and will alert officials anytime a light goes out. "It's a great project because it will save the city money and allows us to better serve patrons," says Reade.
The project is slated for completion by the end of July and is estimated to save Delray Beach $828,973 on electricity and maintenance costs over the next 25 years. For a city facing a budget shortfall, this makes a big difference.
"The cost of lighting at public parks is phenomenal and budget cuts have forced several parks to reduce their hours," says Rodger Ribeiro, the city's recreation superintendent. Ribeiro has been directly involved with the installation of the lights at Pompey Park— a popular local attraction that hosts little league baseball games, Pop Warner football teams and tennis programs.
"Delray Beach is a vacation destination, and we try to provide tourists and residents with lots of quality recreation opportunities," says Ribeiro. 
Reade says that the Pompey Park lighting project is just the tip of the iceberg and that the city plans to continue investing in green projects that will save money and educate residents about how green technologies can make a difference.
"We are making a strong effort to educate the public about our efforts and to show them how they can make changes at their homes to save energy and reduce their carbon footprint."