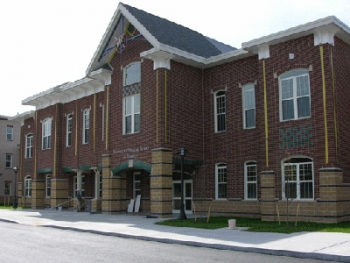 New energy recovery systems and occupancy sensors are greatly reducing energy costs at Woonsocket Middle School at Hamlet. | Photo courtesy of Woonsocket Education Department
When city officials in Woonsocket, R.I. were planning the construction of two new middle schools, they knew they wanted the facilities to be cost efficient in terms of energy use.
"Our old middle school had a steam boiler that was nearly impossible to control and constantly overheated classrooms on the first floor while under heating classrooms on the fifth floor," says Peter Fontaine, the director of facilities and security for the Woonsocket Education Department.
Faced with tight budgets – and an opportunity funded with a $181,400 grant through the American Recovery and Reinvestment Act, the city decided to install occupancy sensors in every classroom and energy recovery systems at both middle schools.
The city hired private contractors to design and install the systems, which are projected to reduce the schools' annual electricity use by 172,365 kWh and the schools' natural gas use by 64,000 therms, saving the city over $26,000 annually.  Installation was completed in December of 2009.
Scott Dunlap is a partner at Architecture Involution, LLC, the firm hired to design the energy recovery systems. He says these types of systems have become more prevalent in the last five years, because the electricity they save allows schools to recoup installation costs within a short time period.
"Unlike conventional HVAC systems, which continually pump new air into classrooms, energy recovery systems take existing air out of classrooms and check temperature and CO2 levels," says Dunlap. "They only introduce fresh air into classrooms when it is necessary to balance CO2 levels or regulate temperature, and this prevents the school from having to constantly heat and cool new air."
The recovery systems not only reduce energy use but improve indoor air quality by constantly monitoring CO2 levels.  
Fontaine spends a good deal of time on-site and is impressed with the new systems. He says they have worked flawlessly and have already made a marked difference in terms of comfort. "The new systems have allowed us to appropriately regulate classroom temperature, and as a result we've had fewer complaints from students," he notes.
The occupancy sensors installed in every classroom use motion detectors to determine when classrooms are vacant. If no movement is detected over a 30 second time period, the classroom lights automatically shut off.
The projected $26,000 in savings are a boon to the Woonsocket School District, which could see its annual budget for the 2011 fiscal year reduced by $1.6 million if the City Council approves a recently proposed budget. According to Jane Talbot, Woonsocket's deputy director of community planning, the city is struggling with budget issues and has been looking for ways to cut expenses for citizens.