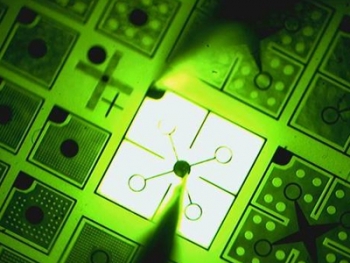 The City of Pocahontas, Iowa swill replace sodium streetlights with LED fixtures. | File photo
Officials of the City of Pocahontas, Iowa, thought replacing old streetlights with light-emitting diode (LED) lighting was a no-brainer.
Tests revealed that the LEDs used just a quarter of the energy that the old high-pressure sodium lights used, and the city expected to save thousands by making the switch.
But outdated Iowa Utilities Board requirements prohibited the use of LED lights for exterior lighting.  "We were originally scheduled to start the replacement program in June," says City Administrator Robert Donahoo.  "However, we had to wait for a six-month rules review for the IUB to amend its regulations, which happily they did."
Now the city is set to begin retrofitting all 266 of its streetlights with new bulbs that together use just 266 kWh per day, compared with the 1064 kWh the previous bulbs used.  At six cents per kilowatt, the city expects to reap annual savings of $17,476.20, Donahoo says.
Lights to go on soon
Donahoo coordinated the city's installation and testing of LED lights and wrote the grant applications, which won the city $81,826 in Energy Efficiency and Conservation Block Grant (EECBG) funding from the U.S. Department of Energy and the Recovery Act.
The city is set to select the lighting manufacturer later this month so that Pocahontas Municipal Electric Utility can begin the installations in November and conclude by May 1. 
This project helps the city meet its state-mandated energy efficiency requirements, but it's just the beginning.
"One future project that we would be interested in pursuing is helping our central business district become more energy efficient by hooking every business up to one large geothermal heating and cooling system on one big loop," Donahoo says.