Engineering students at Los Lunas High School in New Mexico put their knowledge to work by scoping out the optimal site for a new solar energy system that's expected to save the school district more than $20,000 a year.
In September 2009, the school district learned of a grant opportunity through the State Energy Program with funds from the American Recovery and Reinvestment Act to install a photovoltaic system. By October, students, who completed a lesson about solar site development, determined the best place to put it: the school's parking lot. 
"When we heard about the grant, we all got real excited, and we all said, 'Let's go for it'," says John Gabaldon, who teaches math and engineering classes at the high school. "Real-world application is what we are aiming for, and this was a perfect opportunity."
The students' planning, surveying and calculations for a 50 kilowatt system became a key part of the final grant application submitted in November.
Seven months later, the high school got the good news, along with 14 other school districts in New Mexico: Los Lunas school district received part of New Mexico's $4.5 million Recovery Act grant and could install a solar energy system.  The clean renewable energy system was constructed and activated in October.
Significant savings
The $300,000 solar energy system will help reduce the high school's energy costs by up to $1,700 a month, according to school officials. The system is projected to generate approximately 94,000 kWh per year of clean renewable energy.
The local utility company, Public Service Company of New Mexico, will provide renewable energy credits that will generate a combined cost savings of $20,582 per year based on current energy prices, says Terry Othick, the chief operations officer heading the project for the Los Lunas school district.
A hot bed
Los Lunas, a village of 10,000 people about 25 miles south of Albuquerque, sits in an area that has some of the best solar resources in the country.
According to the National Renewable Energy Laboratory, it has the solar potential for about 6.5 kWh per square meter per day, the amount of solar radiation that falls on an array on average, during each day of any month of the year. The highest amount is 6.8.
"The one thing we have in New Mexico is sunshine," says Terry Othick, chief operations officer for Los Lunas school district. "There are only very few cloudy days, so solar is a great opportunity for this geographic area. And it's free."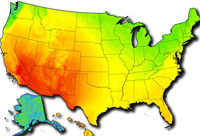 Find out the solar potential for your state
"New Mexico is getting nailed by budget reductions," says Othick. "And therefore any opportunity to use PV solar to reduce our energy bills is going to be greatly welcomed."
The solar panels, which will be equipped with interactive, real-time software, will be integrated into the school's calculus, engineering, physics and astronomy classes.
Consolidated Solar Technologies, an Albuquerque-based solar firm, will install the system, which will have seven to nine, ground mounted panels that take up about 120 square feet. The firm will also provide the district with a mobile solar demonstration unit that can be moved throughout the district for educational purposes concerning renewable energy.
Three of Gabaldon's engineering students, who have since graduated, decided on a parking lot on the southwest corner of the school as the site for the installation. There are no obstructions; the slope is just right; it is close enough to the school's power grid; and it was the least expensive place to install them. 
"They wanted it visible," Othick says. "It will sit on one side, off State Highway 25. Everyone is going to see it."
Creating jobs
The 15 school districts in New Mexico were selected through a competitive application process. Ryan Helton, solar energy program manager at the New Mexico Energy, Minerals and Natural Resources Department, says they received about 35 applications from school districts across the state.
The grants came a few months after Governor Bill Richardson announced his Green Jobs Executive Order to develop and capitalize on renewable resources in the state. One of the goals of the order is to train and build a green workforce.
During the announcement of the awards, Gov. Richardson stated that the solar panels for schools project will inspire students to pursue education and jobs in New Mexico's emerging green economy.
"From the very beginning our focus was on job creation and renewable energy," says Helton, "but we're also very interested in having the schools develop programs and to get their students involved in renewable energy development and the technology behind it."
Editor's note: This story was updated on October 17, 2010, to reflect the solar panel system construction date.