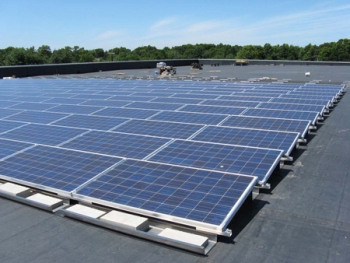 Woodbridge Township has installed solar panels atop its community center | Photo courtesy Woodbridge
Caroline Ehrlich describes her New Jersey town as "a very diverse township where the quality of life and educational systems are terrific." But it's Woodbridge Township's sustainability efforts in actions such as installing solar panels and using fuel-efficient vehicles that have earned it even more attention as a sustainability champion, and community leaders are not stopping there.
"Saving energy is one of our top priorities," Caroline, who is the mayor's chief of staff and in charge of sustainability efforts, says. "Aside from being good for the environment, it's ultimately a budget-saving mechanism for municipalities."
Last year, Woodbridge participated in the Sustainable Jersey initiative and was named the winner in the large municipality category. The township is continuing those efforts with just less than $1 million it received in an Energy Efficiency and Conservation Block Grant from the U.S. Department of Energy through the Recovery Act. The grant is enabling the township to retrofit several municipal buildings, in addition to developing a climate action plan, which will help leaders establish a clear strategy for fighting climate change in the future. Woodbridge also plans to designate a 100-acre area as a green technology park for manufacturers and businesses that Caroline hopes will become a hub of green jobs.
"The grant is enabling us to do these things without too much investment up front — without it, some of this certainly would not be possible," she says.
The energy and money saved from retrofitting Woodbridge's buildings with more-efficient lighting, heating and cooling and other energy-using systems is expected to amount to just more than 500,000 kWh annually, or the total amount of energy saved by all of Vietnam during this year's Earth Hour (Vietnam's population is roughly that of California, Texas, New York and Maryland combined). That's the equivalent of about $120,000 each year in taxpayer savings. The work is expected to employ as many as 10 contractors during the retrofitting process.
So what's Woodbridge doing next? The township has has established a "museum of the future," Caroline says, which will eventually showcase how some of the town's energy-efficiency efforts are working for its citizens.
"There are interactive exhibits," Caroline says, "where our residents and others throughout the area can learn about being sustainable and how beneficial it can be."