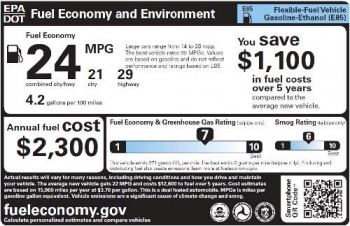 If you've ever gone through the process of shopping for a new car, you know just how difficult it can be to cut through the hype and find the best vehicle for you. For decades, consumers have been turning to fuel economy labels to get gas mileage estimates for city and highway driving, to narrow their choices and make an informed purchase.
Today, there are more vehicle choices than ever and consumers want to know how much it will cost not just to purchase a new vehicle but how much it will cost to run it as well. With the next generation of fuel economy labels unveiled today by the Department of Transportation and the Environment Protection Agency, consumers will be able to easily see how much they will save on gasoline with more efficient vehicles, including hybrids, electric vehicles or alternative fuel vehicles.
Starting with 2013 model year vehicles, the traditional miles per gallon estimates will be joined by the average annual fuel costs for each vehicle, along with a comparison of emissions and fuel costs and savings in relation to the average new vehicle. For consumers who want to delve even deeper without leaving the lot, the new labels also feature a Quick Response (QR) code that allows car buyers to comparison shop on the go. Shoppers can scan the QR code with their smart phones to store that vehicle's information, compare it to other vehicles, and access Fueleconomy.gov for more detailed estimates based off current gas prices and electricity rates in their area.
This information will give consumers instant access to the true long-term costs of each vehicle, empowering them to make informed decisions that go well beyond the sticker price. Along with the historic fuel economy standards adopted by the Obama administration last year, which require car manufacturers to achieve a fleet-wide fuel-economy average of 35.5 miles per gallon by 2016, these labels mark a significant step toward reducing our dependence on foreign oil and saving Americans money at the pump.
For more information on the new labels visit Fueleconomy.gov.