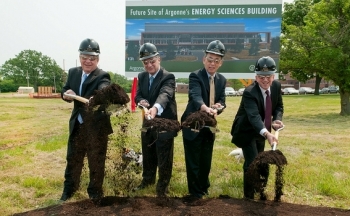 Senator Richard Durbin, University of Chicago President Robert Zimmer, Secretary Chu, and Argonne Director Eric Isaacs break ground for the new Energy Sciences Building. | Photo Courtesy of Argonne National Laboratory
America has a long tradition of scientific inquiry and breakthroughs. And Argonne National Laboratory has been helping drive scientific innovation since its days as part of the Manhattan Project's Metallurgical Lab.
Secretary Chu joined the lab, located in Argonne, Ill., for a groundbreaking ceremony this morning to celebrate the new Energy Sciences Building. This new facility signals the next chapter for Argonne and a continuation of the progress already made there.
"Argonne has not only led in innovation, but in moving pioneering discoveries from the lab to the marketplace -- helping U.S. companies compete in the global marketplace," said Secretary Chu.
And, true to its name, the Energy Sciences Building will use the latest energy saving technologies available. Designed to be a Leadership in Energy and Environmental Design (LEED) Gold building, the facility will utilize a daylighting design, local and recycled materials, exhaust heat recovery, and high efficiency lighting systems with occupancy controls.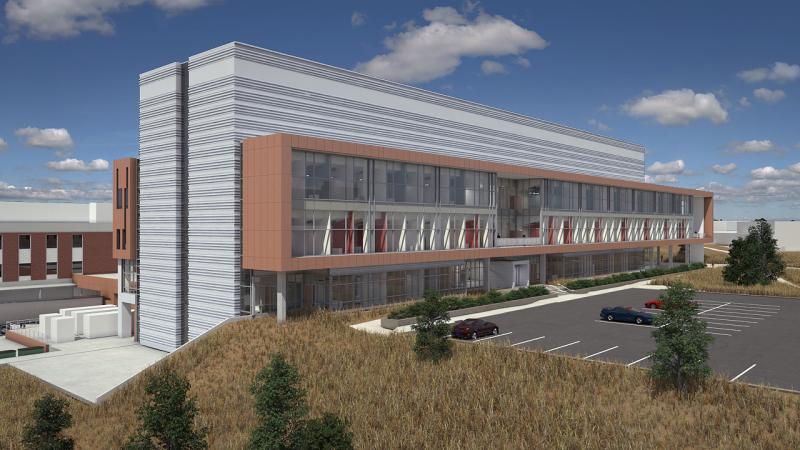 A model of the new Energy Sciences Building, which will create nearly 2,000 new construction and service jobs, and house about 200 researchers. | Courtesy of Argonne National Laboratory
It will also include state-of-the-art equipment for scientists to continue their critical research projects. Between the new facilities and the world-class research being done, Argonne should have no trouble continuing to attract some of the brightest minds to collaborate on projects.
The new building will also create nearly 2,000 new construction and service jobs, and house about 200 researchers. The first of 17 national labs, Argonne's research cuts across many disciplines ranging from solar energy and alternative fuels to advanced batteries and energy storage.
Some of that battery research will likely be housed at the Energy Sciences Building upon completion. Researcher developments in recent years have helped put America back on top as a leader in advanced battery technologies.
We need Argonne and the innovative work being done there to keep American industry competitive in the global marketplace. Companies like Envia Systems license the lab's battery technology and use it to out-innovate the rest of the world. They are currently working on improving cathode material to give the next generation of battery cells higher capability at a lower cost.
"The research that will be performed here will transform the energy landscape and help America win the clean energy race – creating good jobs for decades to come," Secretary Chu said.
Lindsey Geisler is a Public Affairs Specialist with the Office of Public Affairs.