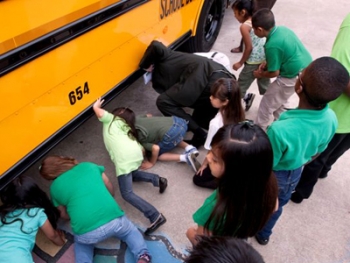 Students look underneath one of Fort Worth Independent School District's new hybrid diesel buses. | Photo courtesy of FWISD
This fall, when students in Texas' Fort Worth Independent School District (FWISD) board school buses, some of them will be riding on the district's new hybrid electric diesel vehicles.
Thanks to Recovery Act funding from the U.S. Department of Energy's Clean Cities program, the district was able to purchase 25 buses—enough to transport 1,800 students to school while saving the district 12,000 gallons of fuel a year. The program covered the cost difference between replacing an older bus and purchasing a new hybrid electric diesel model.
"The buses should get about a 30 percent better fuel economy than the current ones," says Mike Horsley, director of fleet operations for FWISD.
The new hybrid buses run much like the better-known consumer hybrid vehicles, such as a Toyota Prius. Although the engine is always running on the bus hybrid vehicles, the battery charges through breaking and deceleration, and does not require a formal charging station, says Horsley. The bus runs on electricity up to 15 mph, after which the diesel engine starts.
Transporting efficiency to the classroom
There are currently 462 buses in the fleet — ranging from 18 to 72 seats each — that service the nearly 13,000 students in FWISD. Almost 14 percent of these students will be transported to school on one of the new buses, which appear almost identical to non-hybrid ones.
So far, Horsley says the children seem excited about the buses. The district showcased one of the buses last April on Earth Day, where students were able to see the engine and underneath the bus.
"The kids were really excited and interested. They were asking some really good questions!" Horsley says.  "We're hoping to use them in schools to teach kids about emissions and protecting the environment."
The students also sang a version of classic school song "The Wheels on the Bus" with new lyrics, "The engine on the bus goes green, green, green, all through the town."
Same drivers, accurate results
In order to accurately calculate savings, the new buses will be driven by the same bus drivers on assigned routes each day.
"We're really trying to track the improvement and efficiency of these buses. We want the same drivers each day to get the best reading we can," Horsley says.
Despite this, FWISD recently trained nearly 500 bus drivers to drive and handle the vehicles. "There are some differences that drivers need to understand to operate these buses. The way they take off from a stop and the way they break, it's important to feel that difference," says Horsley.