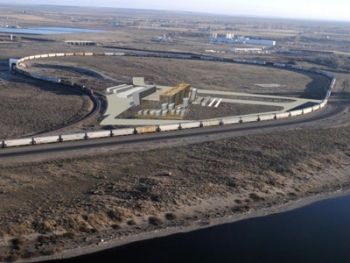 A computer-generate image shows the biorefinery in Boardman, Oregon. | Photo Courtesy of Matt Kegler, diagram supplied by Burns & McDonnell
Recovery Act supports construction of new biorefinery in Boardman, Ore.
Facility could create 20 permanent jobs when fully operational in 2011
ZeaChem plans to work with local farmers to supply biofuel material 
In northeastern Oregon, ZeaChem, a Colorado-based biofuel company, recently broke ground on a 250,000 gallon integrated cellulosic biorefinery. The technology development project is expected to be operating in 2011.
Combining the company's $6.25 million funding and $25 million from the American Recovery and Reinvestment Act, the new facility - located at the Port of Morrow in Boardman, Ore. - will have multiple buildings. The Recovery Act funding is supporting construction of the cellulosic ethanol production areas in the facility.
The new facility will create 20 full-time direct operation jobs plus create jobs throughout the community with local feed stock suppliers and subcontractors. ZeaChem estimates that the entire project could create nearly 300 total direct and indirect jobs.
"We're bringing a new industry and new jobs to Oregon communities," says Tim Eggeman, chief technology officer and founder of ZeaChem.
Feedstock agnostic
The cellulosic ethanol produced at the biorefinery will be blended with gasoline for vehicle use. Cellulosic ethanol reduces greenhouse gas emissions (GHG) by 85 percent over reformulated gasoline, according to a study by Argonne National Laboratory.
The facility will use hybrid poplar trees - fast-growing trees often used to make furniture - as the primary feedstock, to produce ethyl acetate, the chemical precursor to ethanol. The materials will be provided by local partner GreenWood Resources, which operates a 28,000 acre poplar tree farm nearby. ZeaChem will use the tree waste products - bark, limbs and leaves - which cannot be used to produce boards and other wood products.
Because the technology is feedstock agnostic, the company is also planning to use local wheat straw and test other feedstock in the plant as well.
ZeaChem is planning on partnering with local farmers to provide these materials. "We're working with local growers to supply these materials. These energy crops could bring a new industry to these communities," Eggeman says.
Potential for expansion
Although the facility will also produce ethyl acetate and acetic acid - chemicals used to make lacquers and paint coatings - ZeaChem is using the Recovery Act funding on construction and operations for the ethanol portion of the biorefinery.
The new facility is a technology development project, with the ultimate goal of a full commercial facility. Before expansion, the company needs to demonstrate that the technology is feasible in real world conditions.
 
"Technology development progresses in the following stages: lab, pilot, demonstration, commercial. Each step verifies the technology, reduces risk and increases the ability to finance the next deployment stage," says Eggeman.

As a test facility, ZeaChem's five-acre site is still relatively small. However, ZeaChem has the option to purchase an additional 25 acres for expansion in the future - enough acreage to host a full commercial facility.
"That's a significant ramp up," says Eggeman. "At that point we'd be making a dent in the biofuel market."