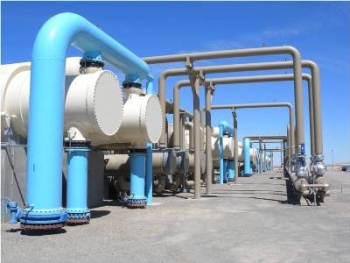 The Faulkner 1 geothermal power plant sits atop Blue Mountain, just outside Winnemucca, Nev.| Photo courtesy NGP
Americans are seeing renewable energy sources put to use all around the country, and now some power plants are taking advantage of one source that rests deep within the Earth — geothermal energy. Just a short distance down the dusty Winnemucca road in Humboldt County, Nev., rests a power plant at Blue Mountain. And nearby residents are ecstatic.
"These are the types of operations that should receive funding, as they provide for eventual cost saving through renewable energy that benefits everyone," Di An Putnam, Winnemucca's mayor, says. "There is also an immediate economic benefit to the area."
Nevada Geothermal Power placed its Faulkner 1 geothermal power plant in service last autumn, thanks in part to a $57.9 million grant under the Recovery Act, which will help offset construction costs and fund additional drilling efforts to increase the plant's output.
The plant will help Nevada meet its renewable energy portfolio standard requirements while also creating 14 green jobs to help with its operation. Additionally, it helps supply the area with clean, domestic renewable energy while reducing reliance on fossil fuels and associated carbon emissions. Reservoir tests indicate that the resource potential at the site could be enough to eventually have an output of 100 MW.
"Nevada Geothermal Power … has been a great addition to [Winnemucca's] industrial makeup," Di An says. "They have provided diversity to our job base, which is a key element in our community's growth. Even more so, they have put our area on the green energy map."
Geothermal energy has stimulated the local economy while providing a source of clean energy.
The U.S. Department of Energy cost shared the exploration of the Blue Mountain site under its Geothermal Resources Exploration and Definition program.