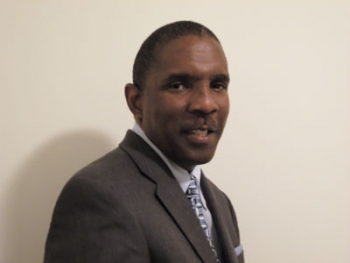 Reginald Speight, CEO of Martin County Community Action | Photo courtesy of Martin County Community Action
North Carolina will receive $132 million, or 10 times more money than in years past, for its weatherization program through the Recovery Act. Martin County Community Action is tasked with weatherizing about 1,029 units with its $7.7 million share. The agency has also surpassed its 123 units from its usual fiscal year funding.
"It's been interesting ramping up like this, but we've put our agency in a position the last couple of years to be able to do more creative enterprises," CEO Reginald Speight says.
MCCA runs a hybrid program in the state that has expanded energy efficiency services to municipalities and made advanced-income households eligible for weatherization, and this work helped prepare the agency for the workload it is seeing now under the Recovery Act. Reginald says harsher-than-usual winter months made MCCA slower to weatherize than in the past, but that the majority of weatherization is able to take place in the spring and summer.
"We didn't anticipate all of that snow, so there were some things we couldn't get beyond that made us slower than we'd hoped to be at first," he says. "But now, we've had to do hiring and bring in additional crews and are working with the local community college on a training curriculum — I really believe the fruit of our labor has yet to be seen, but we'll be up-to-speed and doing a lot of work like we've always done very soon."
Residents who have their homes weatherized will see changes such as better insulation, caulking, weather stripping and other energy-saving retrofits like more-efficient appliances or light bulbs. Once their home is weatherized, a homeowner usually ends up saving about 30 percent on energy bills.
"Weatherization is not rocket science, but it is a science," Reginald says. "We're doing what's most effective to go in and perform the correct diagnostics that result in the biggest bang for our buck."
Regardless of being named after Martin County, MCCA actually services six counties in North Carolina. As a result of the stimulus weatherization efforts, the agency has grown and opened new offices, often within the buildings where citizens pay their utility bills.
"They go in and pay their bills at one door and walk right next door to us," Reginald says. "They say they just paid $300 on their utility bill and we say, 'you need weatherization.'"
Editor's note:  This story was updated on July 13, 2010 to reflect an adjusted cost per average unit from $4,000 to $6,000, which decreased the number of units to be weatherized by March 2012.