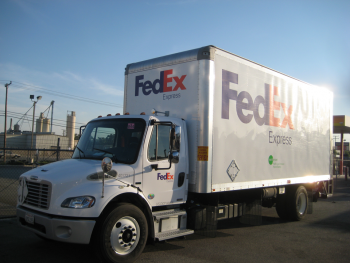 FedEx, a National Clean Fleets partner, is expanding its advanced technology vehicle fleets in Kansas and Michigan with the support of Clean Cities projects in those states. | Photo courtesy of Jonathan Burton, NREL.
While many consumers are realizing fuel savings using hybrid technology in passenger vehicles, companies can also benefit from incorporating hybrid technology in their fleet of medium- and heavy-duty vehicles. In fact, medium-duty delivery vehicles with hybrid technology can achieve up to 36 percent higher fuel economy than their conventional counterparts. Recognizing that they can reduce their oil use, vehicle emissions and fuel costs, several companies participating in the Energy Department's National Clean Fleets Partnership are working to expand the number of hybrid trucks in their fleets.
Medium- and heavy-duty fleets have two choices of technology when it comes to hybrid vehicles: hybrid electric and hydraulic hybrid. Hybrid electric vehicles combine a combustion engine with an electric motor that draws energy from a battery. The vehicle recharges the battery through regenerative braking -- capturing energy that is otherwise wasted during braking. The battery reduces the amount of work the engine must do -- especially during acceleration -- and also allows the engine to shut off altogether when it is not needed -- such as when waiting at traffic lights or while idling. Instead of a battery, hydraulic hybrids use a hydraulic accumulator that stores pressurized fluid. The vehicle builds up the pressure in the accumulator through regenerative braking and the pressurized fluid provides power to the wheels when needed. Hybrid technologies are adaptable, allowing vehicles to use a number of different fuels, including gasoline, diesel and biodiesel.
Because hybrid technology for medium- and heavy-duty vehicles is still relatively new, many National Clean Fleets partners are testing the waters through the Department's Clean Cities American Recovery and Reinvestment Act projects. Maryland Energy Administration developed one project that focuses solely on this market. The $5.9 million Maryland Hybrid Truck Goods Movement Initiative enabled five national companies, including UPS, to put 115 hybrid electric and 30 hydraulic hybrid trucks on the road across the country. The companies leveraged the Department's investment with more than $10 million of their own money. Through a number of Recovery Act projects, Coca-Cola is working with Georgia's DeKalb County, the North Central Texas Council of Governments, and the New York State Energy Research and Development Authority to deploy more than 90 hybrid electric vehicles. PepsiCo and FedEx expanded their advanced technology vehicle fleets in Kansas and Michigan with the support of Clean Cities projects in those states.
A number of other companies are taking independent steps to increase the use of hybrids and other alternative fuels in their fleets. Pacific Gas and Electric (PG&E), Ryder and Staples are testing medium- and heavy-duty hybrid electric utility, delivery, and service vehicles. Verizon recently announced the debut a fleet of 25 Mobile Area Garage Installation Center (MAGIC) buses in New York City that will pick up company technicians at central locations and drop them off at local job sites, removing about 250 service trucks from the city's roads. In addition to Verizon "rightsizing" its fleet, two of these buses combine natural gas with plug-in hybrid electric systems that further increase fuel economy over regular hybrid electric technology.
All of these fleets aim to choose the hybrid technology that best meets their needs. Just as light-duty hybrids achieve the best fuel economy in city traffic, medium- and heavy-duty hybrids are best suited for routes that require frequent stops, like delivery trucks and transit buses. These projects and the National Clean Fleets Partnership are helping these companies better understand how they can most effectively use hybrid technology. Many projects are collecting data on fuel usage, driver behavior and routing that can be used to better inform their decisions. With this data, the companies will be better equipped to purchase and effectively use more medium- and heavy-duty hybrid electric vehicles in the future.