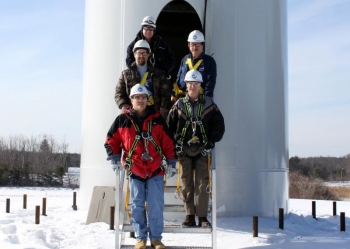 Mount Wachusett Community College staff Bill Swift, Bob LaBonte, Norm Boudreau, George Couillard and Vestas trainer Bill Fulkerson about to ascend the MWCC north wind turbine | Photo courtesy of GreenOnGreenStreet
Mount Wachusett Community College (MWCC) in Gardner, Massachusetts, with support from the U.S. Department of Energy, made a huge investment in renewable energy by installing two new utility-scale wind turbines on their campus this year.
The turbines are expected to provide an annual savings of approximately $700,000 based on the area's current utility rates -- a figure which more than offsets the annual debt service on the turbines.
MWCC's purchase of two Vestas V82 1.65 megawatt turbines, now towering 270 feet above campus, was made possible through a grant from the Department of Energy.
Before taking on the wind turbine project, MWCC had already embraced renewable energy technologies. In 2002, the college installed a small biomass plant to provide on-campus heating. And from 2002 to 2010, they installed 100 kilowatts of solar power panels and completed a number of energy conservation projects.
Combined, these projects reduced the college's annual consumption from 9 million kilowatt hours annually to just over 5 million kilowatt hours, saving the college approximately $4 million over 8 years and significantly reducing carbon emissions.
MWCC gains more from its green energy investments than just electricity. The school incorporates these installations as a hands-on part of its innovative renewable energy-related curricula in Natural Resources, Energy Management and Workforce Development Programs. Efforts at institutions such as MWCC will not only help save money and reduce negative environmental impacts from energy production, but also offer the educational opportunities necessary so that students will have the skills they need to fill the good clean energy jobs of the future.