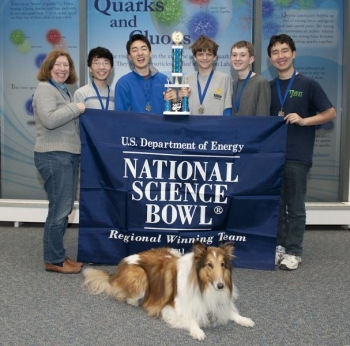 The Virginia winners: coach Sharon Webb, Alexander Yang, Steve Qian, Alec Brenner, Owen Gray, Zeming Lin and Ollie, the Virginia Regional Science Bowl puppy | Photo Courtesy of National Science Bowl
With the deadline for the White House's Race to the Top Commencement Challenge right around the corner, we thought it would be a good idea to see how the regional science bowls were coming along, too.
By March 25, thousands of students will have competed in more than 100 regional science bowl contests throughout the country, and then the winning schools will compete in DC this spring for the national championship. Pictured above is the Thomas Jefferson High School for Science and Technology team (along with their team collie), which won the the state of Virginia title on February 5th, and pictured below is the the Ames High School team, which won the state of Iowa regional contest on January 29th.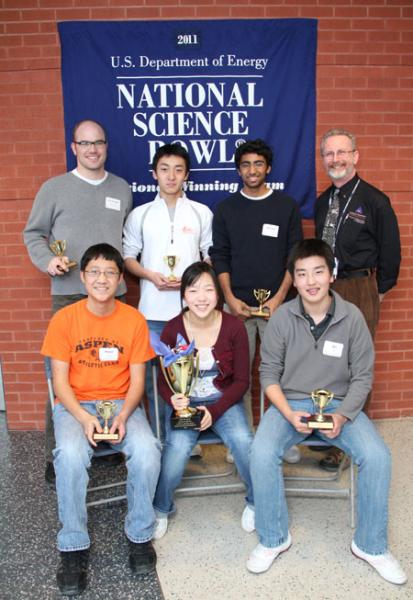 The Iowa winners: Peter Yin, Lucy Chen, Bo Fan, coach Joe Brekke, Alex Huang, Nirvan Tyagi and Ames Laboratory Director Alex King | courtesy of National Science Bowl
We'll continue to follow along with all the regional contests and will definitely be covering the national competition here in DC on April 28 - May 5. You can learn more about the contest here and keep up with the latest on the National Science Bowl official Facebook page.
G. Simmons is a new media specialists and contractor to the Office of Public Affairs.